Many Central localities report deaths and missing, injured persons after floods.
The recent days of flood have caused costly damage to people and property in many Central localities.
Functional forces together with the police of Thua Thien- Hue Province have taken advantage of dry weather and floodwater on Huong River below alert level 2 to help residents clean up mud and garbage, perform environment hygiene and spray chemicals to prevent disease outbreaks after floods.
There is a huge amount of garbage along with floodwater, covering the foot of the bridge and along the riverbanks of the Huong River in the central area of Hue City. The People's Committees of wards and communes in Hue City have mobilized forces and specialized means to clear accumulated garbage and debris to restore the flow.


Deputy Chairman of the People's Committee of Quang Ngai Province Tran Phuoc Hien visited in Son Ha District where 30 households with 107 people have been relocated from the landslide points of Van Ca Vai and Lang Bo mountains in Di Lang Town in recent years. Additionally, the locality reported erosion at Nuoc Lac Bridge in Son Ky Commune.
Initially, the province will give priority to reinforcing bridges and roads with landslides to re-open traffic and soon stabilize people's lives.
Similarly, the Central province of Phu Yen reported landslide and land subsidence with a huge volume of soil and rock falling on National Highways 25, 29 and 19C.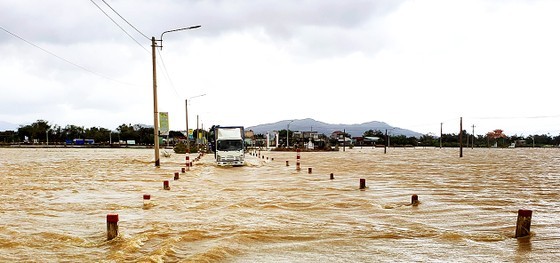 Heavy flooding is recorded in Tuy Phuoc District, Binh Dinh Province after torrential rains. (Photo: Ngoc Oai)
In Binh Dinh Province, many low-lying downstream river areas have been submerged and isolated as floodwater levels exceeded alert level 1 and level 2.
Additionally, heavy rains caused flooding and landslide in Vinh Son Pass, Vinh Thanh District, resulting in traffic congestion.
The Central provinces of Thua Thien-Hue, Quang Tri, Binh Dinh, Quang Nam and Phu Yen reported that five people have died and two persons are still missing after recent days of heavy rain and flood.
On the same day, the Vietnam Red Cross Central Committee decided to give initial emergency relief to Thua Thien-Hue Province with VND100 million (US$4,122) in cash and 200 gifts with essential foods to support poor, near-poor families and households in difficult circumstances who have lost their homes and incomes, have had deaths and missing or injured persons after floods.