The Vietnam Dan Bau- Vietnamese Monochord Art Club has just been established in the first Dan Bau- Vietnamese Monochord festival 2014 which was organized in Hanoi on December 14 by the Vietnam National Academy of Music and Vietnam Musicians Association.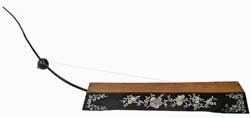 Dan bau - Vietnamese monochord (Illustrative photo: SGGP)
Director of the Vietnam National Academy of Music said that the festival aimed at keeping alive the traditional musical instruments and fostering a love for dan bau among people.

The Dan Bau Art Club under the Vietnam Musicians Association will promote dan bau studying and performing as well as encouraging composers across the country to write new works.
According to professor Nguyen Thuyet Phong from US-based Institute for Vietnamese Music Research, Dan bau has one unique string strung across the bamboo, tied on one end to a rod, which is perpendicularly attached to the bamboo. A coconut shell was attached to the rod, serving as a resonator.

Players have to use their pinky in the right hand to tap the string at different nodes while other fingers pluck the string using a long plectrum while the left hand adjusts the flexible rod to raise or lower the pitch besides instilling soul into the music with techniques including vibrating, sliding and harmonics.

"The melody of the dan bau is like the voice of the Vietnamese people, light but still deep. It carries the souls of the Vietnamese people through the rise and fall of history and it alleviates all the burdens and difficulties in life with hopeful beliefs", said the Professor.