Vietnamese newcomer Ninh Duong Lan Ngoc was named a favourite actress in the foreign film category at the 20 th Jin Ji Bai Hua (Golden Rooster and Hundred Flowers) Film Festival in Anhui, China.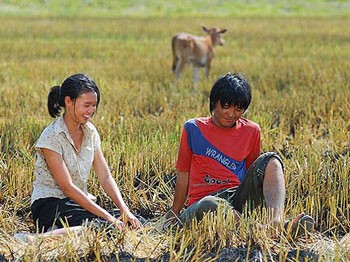 (File photo) Actress Lan Ngoc in the film Canh Dong Bat Tan (Floating Lives)
The 21-year-old won the award for her role in Canh Dong Bat Tan (Floating Lives) by director Nguyen Phan Quang Binh.
Based on the best-selling novel Boundless Rice Field by Nguyen Ngoc Tu, the film centres around a family separated from the mainstream of modern society.
Floating Lives draws audiences into the colourful daily life of unsophisticated peasants scratching a living in the beautiful but unforgiving vastness of the Cuu Long (Mekong) Delta.
Floating Lives was Ngoc's first film while she was studying at the HCM City Theatre and Cinematography College.
Actress Emma Lohoues from the Ivory Coast was also presented with a favourite actress award in a foreign film. RoK actor Lee Sun-jae and Japan's Hajime Yoshii won the favourite foreign actors awards in the men's category. The 12-year-old Japanese actor is the youngest winner of an award at the festival.
The Golden Rooster Awards is the most prestigious film festival in mainland China. The awards, presented by the China Film Association, began in 1981, the year of the rooster. Winners are awarded a statuette in the shape of a golden rooster.
The judging panel reviewed 28 movies from 18 countries and territories for this year's awards that ended on Oct. 22.