Several city residents expressed their relief on first day of prohibitory orders on truck traffic on some main roads in central areas of Ho Chi Minh City.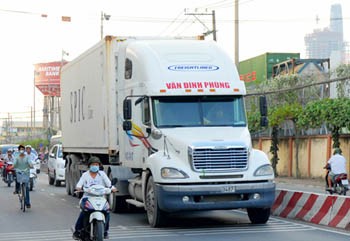 A truck plying on Nguyen Tat Thanh Street on November 1 (Photo: SGGP)
According to a decision by the People's Committee of HCMC, issued October 22, trucks of less than five ton capacity will not be permitted on some roads in the city center from 6am-8am and 4pm-8pm from November 1.
Trucks of higher than five ton capacity are banned from prohibited areas from 6pm to midnight.
According to Sai Gon Giai Phong Newspaper, on the first day of the restriction it was a relief to see no traffic jams on Ton Duc Thang Street in District 1 and Nguyen Tat Thanh Street in District 4 which are otherwise a normal occurrence.
Phan Nguyen Thanh, owner of a restaurant on Ton Duc Thang Street says people in surrounding areas are happy and find the decision rational as the road is located in the city downtown areas where many foreign visitors hang out.
Most truck drivers complied with the ban on Dien Bien Phu, Phan Dang Luu and Nguyen Thi Minh Khai Streets. However, some chose to ignore the ban or said they were unaware of the new regulations.
Some businesses complained of the problems in transporting cargo to Saigon Port. According to Dang Duc Tiep, director of Dang Tien Transport Company, they now have to take a longer 10 kilometer route to reach Saigon Port. Meanwhile, construction on 25B Road and the road leading to Phu My Bridge is still not complete, leading to regular traffic jams.
Bui Xuan Cuong, deputy director of the Department of Transport, said that the restriction will be applied on other roads also once the construction of Road 25B and Phu My Bridge is complete. Trucks will only be permitted to ply on some radial roads for a limited six hours per day.