Three Vietnamese films including Dung dot (Don't Burn), Trang noi day gieng (The Moon at the Bottom of the Well), and Choi voi (Adrift) will be shown at the 2009 Asia-Pacific Film Festival in Kaosiung City, Taiwan ( China ) from December 17-20.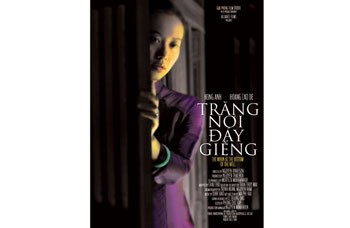 Poster of the film Trang noi day gieng (The Moon at the Bottom of the Well)
Two documentaries, Bai ca tren dinh Ta Nung (A song on Ta Nung Mountain) and Loi nguyen cau (Prayer) will also screen, according to the Department of Movies of the Ministry of Culture, Sports and Tourism.
The movie Dung dot, produced by the Vietnam Cinema Association, won the prestigious Golden Lotus Prize and an award chosen by the judging panel and media at the 16th Vietnam Film Festival last week. It will also represent Vietnam in the Best Foreign Language Film category at the 82nd Academy Awards in 2010. Written and directed by Dang Nhat Minh, Dung dot tells the story of Dang Thuy Tram, a heroic army doctor who loves her country.
Trang noi day gieng, meanwhile, won the Silver Lotus Prize at the Vietnam Film Festival. In September last year, the film's star Hong Anh won "Best Actress" at the Asia-Africa Awards during the fifth Dubai International Film Festival in the United Arab Emirates. It was also screened at the 37th International Film Festival Rotterdam 2008 in the Netherlands in February, and at the
Busan International Film Festival in the Republic of Korea in August 2008.
The film Choi voi, which has been praised by critics for the creativeness shown by young director Bui Thac Chuyen, took the 16th Vietnamese film festival's "Best Director" award. It also won the Fipresci International Critics' Prize at the 66th Venice Film Festival in September and screened around the world at other international film fests in Toronto, Busan, London, Fukuoka and Bangkok.

Director Nguyen Vinh Son and actor Hoang Cao De of the film Trang noi day gieng; and actress Minh Huong who starred in Dung dot, will travel to Taiwan for the 2009 Asia-Pacific Film Festival.

First held in 1954, the event is held annually in an Asian country designated by the Board of Directors of the Federation of Motion Picture Producers in Asia-Pacific (FPA).

This year's 53rd international film festival will be attended by 21 FPA member countries.