Thanh Cuong was declared winner of the third season of 'MasterChef Vietnam 2015' on December 12.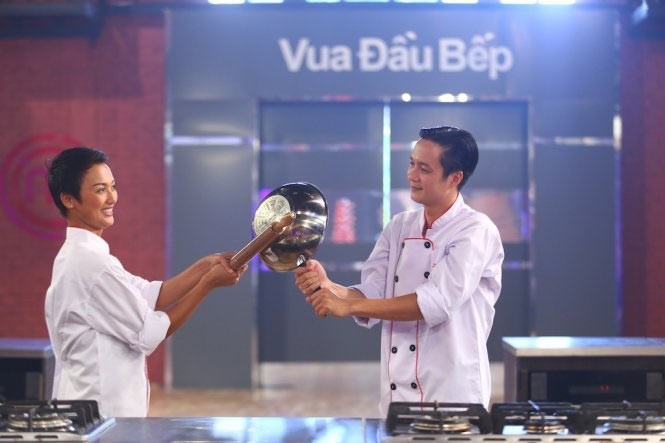 Thanh Cuong & Tuyet Pham at the final round of Master Chef Vietnam
The climax night brought a competition between the final two contestants, Thanh Cuong and Pham Tuyet. They spent two and a half hours to finish the course menu of an appetizer, main course, and a dessert.
Cuong's cooking featured shrimp and asparagus salad, oyster with mustard sauce, Japanese bean jelly and orange peel, roasted rack of lamb with chestnut, fried salmon with vegebtables, banana and strawbery crepes.
The third season of MasterChef Vietnam, the Vietnamese version of the popular international reality television show 'MasterChef' was broadcast on VTV3 channel since September.
The cooking competition gave viewers exciting moments in which competitors will have to overcome many challenges to reach to the title of Vietnam Masterchef.
Christine Ha - the first blind contestant of MasterChef USA in 2012 was a judge of the contest.
MasterChef Vietnam is a Vietnamese Cooking Game Show based on the original British version of MasterChef.
MasterChef is being produced in 35 countries around the world and broadcast in more than 200 countries with a huge number of viewers.