The World Records Union has released the official certificate announcing the new world record for Vietnamese talented poet Nguyen Du's Truyen Kieu (The Tale of Kieu), according to the Vietnam Book of Records.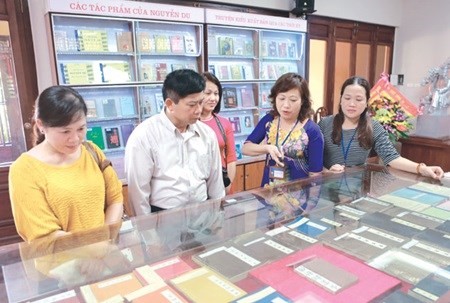 Visitors look at different versions of The Tale of Kieu exhibited at the Nguyen Du memorial house in Ha Tinh province. (Photo: VNA)
Accordingly, The Tale of Kieu has officially become the literary work with the most national records in the world.
This record has been registered successfully by Vietnam Book of Records and established to coincide with poet Nguyen Du's 250th birth anniversary, and a ceremony honouring the UNESCO-recognised World Cultural Celebrity that takes place nationwide.
The World Records Union assessed that The Tale of Kieu, an epic poem with 3,254 verses written by Nguyen Du (1765-1820) in ancient Vietnamese Nom ideographic script, is widely regarded as the most significant work of Vietnamese literature.
Besides, The Tale of Kieu was translated into 20 languages, including English, Russian and French, with over 35 versions.
Records of the tale have been demonstrated in various artistic adaptations such as newspapers, fine arts, cinema and theatre, all of which have contributed to honouring the cultural beauty that the tale has offered to the Vietnamese cultural and spiritual life.
The world's record of The Tale of Kieu is expected to be awarded in March 2016 in Vietnam.