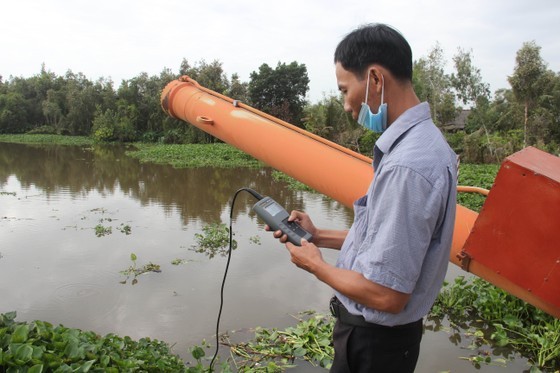 Checking the salinity level on rivers in the Mekong Delta

Accordingly, the Southern Institute of Water Resources Research informed that until March 9, saltwater at the level of 4‰ is going to intrude 45-60km into estuaries. Strong winds can boost this penetration to 50-65km, gravely affecting the ability to obtain and store freshwater.
Vinh Long Province has reported certain places with a salinity level of 4.7‰. Opposite to previous years when farmers were not well-prepared for the intrusion of saltwater and hundreds of hectares of orchards were destroyed, this year, thanks to the CMS warning system installed at each hamlet as well as a closed dyke system, these fruit growers feel more at ease.
At present, many farmers in Thanh Binh Commune (Vung Liem District of Vinh Long Province) are urgently watering their fruit trees while storing freshwater in reservoirs for the harsher days of saltwater intrusion to come. Compared to the years before, most of them have built such useful reservoirs and are frequently updated with the latest salinity level by the Division of Agriculture and Rural Development (sited along the rivers of Co Chien and Mang Thit). In addition, the sluices are effectively operated accordingly. Therefore, 1,222ha of durian trees here have not experienced any negative impacts yet.
Similarly, in Hau Giang Province these days, agricultural officers are closely checking the salinity level on the main rivers flowing to both the West and East directions. When saltwater intrusion is detected, the sluices there will be closed, and temporary dams will be erected. 110 such dams are also planned throughout Vi Thuy District to timely stop saltwater from intruding.
The Southern Regional Hydro-meteorological Center reported that the water level along rivers and canals in Ho Chi Minh City is rather high due to the high tide at the beginning of the second lunar month in the year.
At the start of this week, the highest salinity level at most stations is even higher than this time last year. Particularly, the figures from February 21-28 at the stations of Ly Nhon (7km away from Soai Rap River estuary), and Cat Lai (54km away from Saigon River estuary) are 23.1 percent and 5.4 percent respectively.
It is forecast that from March 1-10, this figure will drop quickly at the beginning of the week but then back high at weekend. The salinity level of 4 percent can further penetrate the mainland at a distance of 62-65km from estuaries, raising the level of disaster risk due to saltwater intrusion on Saigon – Dong Nai River to level 3.