A ceremony for receiving the Third Class Labor Medal and marking the 150th anniversary of establishment of the Saigon Botanical Garden was organized on December 23.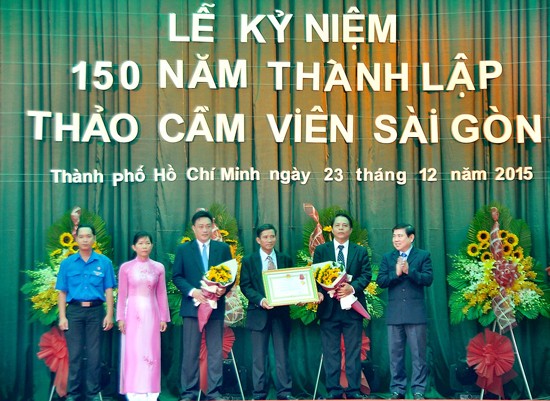 HCMC People's Committee Chairman Nguyen Thanh Phong (first from right) grants the third class Labour Medal for Sai Gon Zoo Garden. (Photo: SGGP)
The Third Class Labor Medal and Emulation Flag were granted by State President and the Ho Chi Minh City People's Committee respectively.

Attending in the ceremony were Chairman of the Ho Chi Minh City People's Committee Nguyen Thanh Phong and former Chairman of HCMC People's Committee Le Hoang Quan.

The Saigon Zoo and Botanical Garden was built in 1864, and officially put into operation a year later.

Over 150 years of establishment and development, the zoo park is not only a work of great historical , cultural and political value but also a preferential choice for extracurricular activities of domestic and foreign students and visitors.

Earlier, the Saigon Zoo and Botanical Garden was recognized as one of the world's oldest zoological park.

Speaking at the ceremony, Chairman Nguyen Thanh Phong stressed: "The zoological park plays an important role as the city's green lung, contributing to not only improve the quality of the urban landscape but also preserve animal species listed in Vietnam's Red Book of endangered species".
"Next time, Saigon Zoo and Botanical Garden Limit Company needs to collaborate closely with relevant ministries, departments and agencies to finish procedures to impulse investment and building progress of Sai Gon Safari Park Project in Cu Chi to become the large scale national ecological park compared to the region", added Mr. Nguyen Thanh Phong.