More than five ton trucks have been banned from travelling in the National Highway 1A from Ho Chi Minh City to the Mekong Delta provinces of Long An and Tien Giang since December 11 to reduce traffic jam during peak time.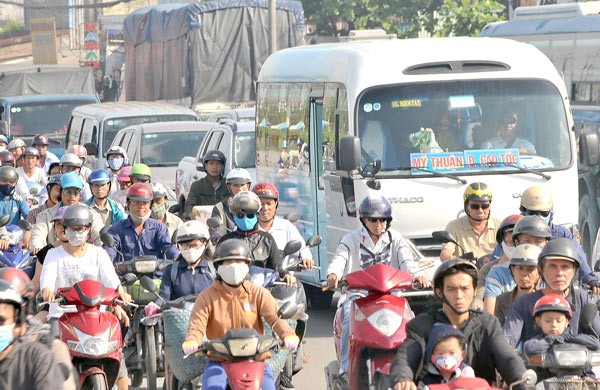 Trucks of more than five tons are banned from travelling in the stretch of the National Highway 1A in Binh Chanh, HCMC (Photo: SGGP)
According to the Road Management Department No. 4 under the Vietnam Road Administration, those travelling from HCMC to the Mekong Delta and conversely now have to ply in HCMC-Trung Luong Expressway or wait until the ban time is over to continue their journey.
The department said that traffic jam has regularly occurred from Vo Van Kiet flyover at Tan Kien intersection to Binh Thuan intersection. The ban aims to reduce the volume of vehicles in this route including 5.7 kilometers in HCMC, 2.8 kilometers in Long An and 2.4 kilometers in Tien Giang.

Some drivers and businesses said that the regulation has raised them difficulties because they have many warehouses locating along the prohibited stretch.
Deputy Head of the department Nguyen Van Thanh said that they can still ply in this route before and after rush hours to reach their warehouses.
Some usually travelling in Nguyen Van Linh Street to reach the Binh Thuan Intersection said they have been confused with the regulation because there has no lorry parks along the street for them to wait for peak hours to be over.
Driver Phan Trung Dinh said that there are some substitute routes such as Tan Tao-Cho Dem, Nguyen Huu Tri, Binh Thuan-Cho Dem. However their road faces are very narrow .
Mr. Thanh affirmed that traffic police will remind and penalize violators and collect opinions to rationalize traffic flows in this area. Those transporting items such as fresh seafood and frozen food can propose the department to grant a special travel license.

The ban will be removed after a 12 kilometer stretch of the highway from Tan Kien intersection to Long An province is broadened. The project is expected to start in the second quarter next year, he added.