Ministry of Cultural, sports and tourism and the People's Committee of Nghe An province organized a press meeting to honor the local Vi-Giam folk singing which was inscribed as part of humanity's intangible cultural heritage in Hanoi on December 25.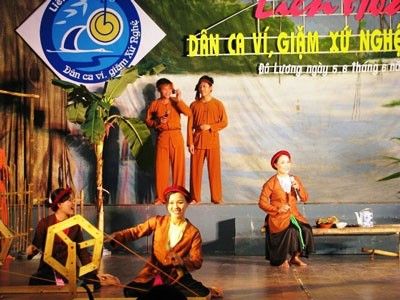 Vi- Giam folk singing performance (Photo: SGGP)
Deputy Head of the Department of Cultural Heritage Nong Quoc Thanh said that Vi-Giam folk singing was officially recognised by UNESCO on November 27 and as part of the intangible cultural heritage of humanity. It is popular in nearly 260 villages in the central provinces of Nghe An and Ha Tinh. The two provinces have 51 singing clubs with over 800 vocalists.
Vi- Giam is a type of folk singing without background music, which was founded by Nghe Tinh resident. The singing culture has existed for hundreds of year. Vi-Giam singing is performed in working and daily life.
The folk singing not only plays an important role in cultural spiritual life of Nghe Tinh people but also becomes an art type, connecting to Vietnamese community.
People's Committee of Nghe An province will held a solemn ceremony to receive cultural heritage certificate for Vi- Giam folk singing at Ho Chi Minh Square in Nghe An province.