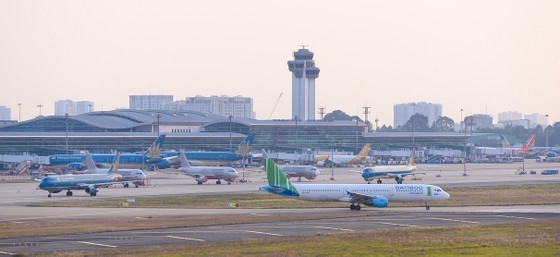 Tan Son Nhat Airport will be expanded in 2023. (Photo: SGGP)
Motivations for breakthrough
The political foundation to ensure HCMC's steady steps forward is Resolution No.24-NQ/TW dated October 7, 2022, of the Politburo on socio-economic development, ensuring national defense and security in the Southeast region to 2030, with a vision to 2045. This is an important resolution, establishing the position of HCMC in the Southern key economic region as 'a knowledge-based economic city, an international financial center; a civilized, modern, dynamic and creative city, developing on a par with major cities in Asia, playing the role of a growth pole of the region; a place where international financial institutions and large economic groups of the world gather'.
In addition, the National Assembly has allowed HCMC to continue implementing Resolution No.54 until the end of 2023, and the city is going to submit to the Central Government a draft special mechanism to replace this resolution to prepare for more sustainable steps. Along with that, HCMC is developing a way to pilot new meaningful matters, helping it to make a breakthrough and advance; take steps to reform city management in breadth and depth in five main areas, including investment management, budget finance, urban management, staff organization, and Thu Duc City.
To help HCMC have a growth momentum in the coming time, the Government and the authorities of the Southeast provinces have decided to invest heavily in technical infrastructure in the region in general and HCMC, in particular. Because only a well-invested road, air, and waterway system can create a strong breakthrough for the whole region. Therefore, the city has determined that the project "Developing transport infrastructure in HCMC in the 2020-2030 period" is one of the most powerful breakthroughs for the entire socio-economic development.
Large infrastructure projects start
In terms of aviation, the T3 terminal at Tan Son Nhat International Airport will start construction in 2023 and be completed in 2024, with a capacity of 20 million passengers per year, increasing the total capacity of this airport to 50 million passengers per year. Along with that, the road system also receives large investments. HCMC has determined the total estimated investment for technical infrastructure is more than VND970.65 trillion. In 2023, the city is determined to close Ring Road No.2, start the construction of the Ring Road No.3 project and complete it in 2026, creating a connection between HCMC and Dong Nai, Binh Duong, and Long An provinces. The city has also prepared for Ring Road No.4, together with Dong Nai Province to start the construction of the Cat Lai Bridge to awaken the land in the East, especially Nhon Trach.
Inter-regional routes will be upgraded and renewed, including two important routes HCMC - Moc Bai and HCMC - Xa Mat, connecting HCMC to two international border gates to Cambodia, from there to Thailand and Laos. After the official visit of Prime Minister Pham Minh Chinh on November 8, 2022, Cambodian Prime Minister Hunsen pledged to upgrade the Phnom Penh - Moc Bai route, with a length of 167km, into a high-quality expressway, creating a new road system connecting Vietnam, Cambodia, Laos, China, and Thailand. Other routes, such as HCMC - Long Thanh - Dau Giay and HCMC - Trung Luong, will create a convenient inter-regional traffic network in the East and Southwest regions.
Hopefully, the Metro Line No.1 Ben Thanh - Suoi Tien will be completed and put into trial operation by the end of 2023 for commercial operation in 2024. The Metro Line No.2 Ben Thanh - Tham Luong and the Metro Line No.5 Bay Hien Intersection - Saigon Bridge will be accelerated construction progress. The city will also invest in completing key traffic intersections, including An Phu, My Thuy, Go Dua, Linh Xuan (Thu Duc City), Bon Xa (Tan Phu District), and the Democracy Square Roundabout (District 3). Large-scale bridges across the river are also prioritized for construction investment, such as Thu Thiem No.3 and No.4 bridges. The strong investment in technical infrastructure shows HCMC's strong determination in creating motivation and breakthroughs in development for the city to become the economic and financial center of Southeast Asia.
Focusing on main solutions in 2023
In 2023, HCMC will concentrate on ten key tasks and solutions. Specifically, it will focus on economic restructuring towards improving autonomy and resilience, and adaptability; develop the digital economy and support businesses in digital transformation; convert the model of industrial parks, export processing zones, and high-tech parks; support key industries to develop key products with competitive edges to participate in the global supply chain; promote export, develop logistics, speed up the project to build an international financial center, and develop smart tourism.
Aside from that, the city will speed up the construction progress, complete and put into use key infrastructure projects; urgently implement the urban railway project No.2 Ben Thanh - Tham Luong, the Ring Road No.3, the HCMC - Moc Bai Expressway, the T3 terminal of Tan Son Nhat Airport, the Xuyen Tam Canal, and other works and key projects to celebrate the 50th anniversary of the Reunification Day; continue to attract resources for construction investment in the coming time.
Moreover, it will accelerate the construction and completion of the Thu Duc City master plan to 2040, the planning of HCMC in the 2021 - 2030 period, with a vision to 2045; adjust the general planning of HCMC to 2040, with a vision to 2060 and the development management strategy of the Saigon River corridor.
Implementing comprehensive digital transformation
The new vision of HCMC in 2023 and the following years is to convert powerfully from developing in breadth, using large land funds, and intensively using unskilled labor to developing in depth, inclining to quality and bringing high economic efficiency. In 2023, HCMC will continue to carry out comprehensive digital transformation, develop the digital economy, and build a digital society; promote information technology applications, build digital government; synchronously design, build, and put into operation an integrated and interconnected system of big data, especially data on population, planning, healthcare, education, insurance, businesses, land, and housing, serving the activities and operation of city administration and people's lives.
Currently, HCMC has deployed an integration and data-sharing platform to officially connect the national data-sharing and integration platform to the shared database. More than 900 units in the area, including State agencies, corporations, and non-business units, have linked electronic documents through an integrated and data-sharing platform. The fields of transport, health, education and training, environment, urban planning, and security and order have also deployed many applications for professional work and providing services to the people.
The goal of building a digital economy is to achieve the development goal by 2025 in which HCMC is a modern, smart, service, and industrial city, maintaining its role as the economic locomotive and growth engine of the key economic region in the South and the whole country, leading in innovation, high quality of life, civilization, modernity, and gratitude. By 2030, HCMC will be a center of finance, services, and modern industry, a cultural city, a locomotive in the digital economy, digital society, digital government, and a center of economy, finance, trade, science–technology, and culture of Southeast Asia. In which, the digital economy strives to contribute about 25 percent by 2025 and 40 percent by 2030 to the city's GRDP.
HCMC is also developing a program to change the face and quality of urban life. The downtown area, including Le Loi, Nguyen Hue, Dong Khoi streets, Bach Dang Wharf, and possibly Pham Ngoc Thach street, plus 12ha of the underground central metro station, will create the busiest pedestrian zone across the city's center. Walking streets and night markets in districts 5, 10, 11, and Phu Nhuan will become attractive tourist destinations. HCMC aims at the goal that, by 2030, 100 percent of households will have access to clean water; the area of parkland will reach one square meter per person; the total green area will increase to 3-4 square meters per person.
The city also upgrades canals, such as Tham Luong and Xuyen Tam, to serve for water drainage and improve the environmental landscape. The city has set the goal of 130,000 social housing apartments to improve the lives of workers, especially workers in industrial zones.
It can be said that Resolution No.24 of the Politburo and the extension of Resolution No.54 of the NA are a solid political basis for HCMC's determination to move forward in a new spirit and mindset.