An exhibition featuring 100 photographs of Vietnam and it's people taken by Australian journalist Wilfred Burchett, opened in Ho Chi Minh City on October 28 to mark his 100th birth anniversary(September 16).
Wilfred Burchett was an outstanding journalist who took remarkable pictures of Vietnam and its people during both war and peacetime.
Under the theme "Wilfred Burchett and Vietnam ", the exhibition is being co-organized by the Ho Chi Minh Museum in HCMC, the Vietnam News Agency (VNA), Vietnam-Australia Friendship Association and the family of the journalist, to commemorate him as a great friend of Vietnam on his centenary year (1911).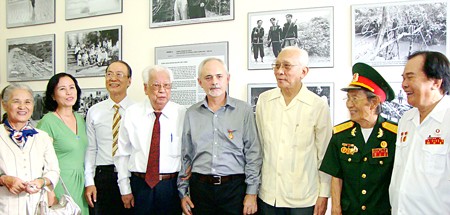 Painter George Burchett - son of Australian journalist Wilfred Burchett (4th, R) at the exhibition

The photo exhibition has been divided into 3 parts: Part 1 titled 'North of the 17th Parallel' depicts Viet Bac base on Dien Bien Phu Battlefield. Part 2 shows the daily life of people in the north during the years 1954-1956, with also images of combat operations in the southern battlefields from 1963-1964. Part 3 shows North Vietnam in 1966 under brutal air attack by US war planes.

Many photographs in the exhibition highlight the great friendship between the journalist and President Ho Chi Minh, Prime Minister Pham Van Dong, General Vo Nguyen Giap and many other Vietnamese leaders, showing his strong support for Vietnam 's revolutionary struggle against the French colonists and the US imperialists.

Speaking at the opening ceremony, VNA General Director Nguyen Duc Loi said Wilfred Burchett was not only a great journalist but also a great friend who always supported the Vietnamese people during the resistance struggle against the US .

The exhibition will run until Nov. 25, and serve to remind the younger generations of the sacrifices made by the people of Vietnam during wartime and give a better understanding about life in the country during such a difficult phase.