A cold front is forecast to hit North Vietnam Tuesday morning, triggering showers in northern regions while central regions could be lashed by heavy rainfall, announced the National Weather Bureau.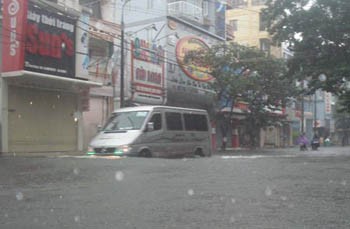 Cold front expected to lash the central region with heavy rains by Tuesday (Photo: SGGP)
The cold front will create strong winds in the Gulf of Tonkin of level 6-7 to blow at 39-61 kilometers an hour. Temperatures are expected to plunge to 15-18 degrees Celsius in the northern regions by Wednesday.
Heavy rainfall will be wide spread in the central region, which should serve as alert for possible flooding.
Meanwhile, the weather is also expected to turn gloomy in the southern and central highland regions as a low pressure zone, coming in from the southern parts of the East Sea, is likely to intensify and combine with the cold front in the north.