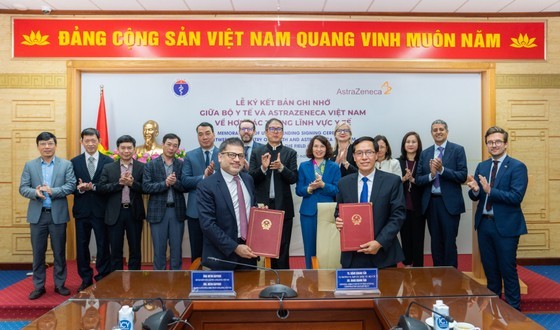 AstraZeneca Vietnam Company and Vietnamese Ministry of Health sign MOU
Under the MOU, from 2023 to 2028, the two sides will expand cooperation in the fields of disease prevention and control, pharmaceutical research, development and production, and sustainable health system development.
According to Mr. Nitin Kapoor, Chairman and General Director of AstraZeneca Vietnam, after the meeting between Prime Minister Pham Minh Chinh and chief executive of AstraZeneca Pascal Soriot in May 2022, the world's fifth largest pharmaceutical company's cooperation and Vietnamese Ministry of Health will open a new chapter in three decades to improve the lives of patients as well as help the Vietnamese health system become more equitable.
According to the memorandum of understanding, AstraZeneca will work with the Ministry of Health and its partners to promote the implementation of both ongoing and new programs, with the goal of raising people's awareness of disease prevention and early disease detection.
These include the 'For Healthy Lungs' Program to help improve the diagnosis, treatment and management of asthma, chronic obstructive pulmonary disease and lung cancer, the program 'Youth Health' to help young people build a healthy lifestyle, prevent non-communicable diseases early and the program 'CAREME – love yourself' to strengthen the cardiovascular health care ecosystem – kidney-metabolism.
At the same time, AstraZeneca is working closely with health authorities and its partners to soon bring other medicines and vaccines to Vietnam to protect people from Covid-19 as well as other dangerous diseases.
Furthermore, in addition to an investment of VND7,000 billion (US$310 million) in Vietnam from 2020 to 2030, including VND 2,000 billion for the project of technology transfer and domestic drug processing, AstraZeneca also has had extensive cooperation with many hospitals in clinical research.
These activities will help Vietnam improve its research and development (R&D) capacity as well as biopharmaceutical production capacity.
According to the memorandum of understanding, AstraZeneca is working with the World Economic Forum, the London School of Economics and the Institute for Health Strategy and Policy under the Ministry of Health, on a partnership program for sustainability and health system resilience (PHSSR), to help strengthen Vietnam's health system holistically and prepare for future challenges.
In addition, AstraZeneca has coordinated with the Ministry of Health and the British Government to donate solar power systems to district health facilities, contributing to environmental protection and providing a stable power source through green energy.
In the coming time, the two sides will also strengthen cooperation in this field to help Vietnam reduce the impact of climate change.
Deputy Minister of Health Nguyen Thi Lien Huong said that AstraZeneca has accompanied the Vietnamese health sector for many years in order to increase access to healthcare services, improve the capacity of the health system, and promote sustainable development. Especially in the past time, this group has played an important role in Vietnam's successful vaccine strategy, which helped effectively control Covid-19.