The 20th session of the 8th Ho Chi Minh City People's Council opening this morning will elect chairman, two deputies and five members of the city People's Committee, said council chairwoman Nguyen Thi Quyet Tam.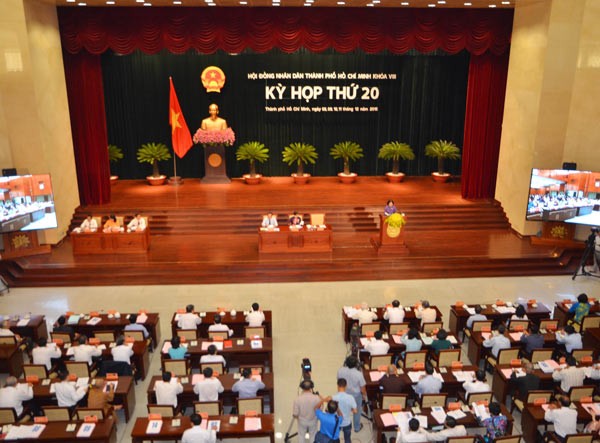 A view of the 20th session of the 8th HCMC People's Council that was opened in the morning of December 8 (Photo: SGGP)
Five members include the committee's office chief, directors of departments of Finance, Planning and Investment, Transport and Police.

At the opening session, People's Committee deputy chairman Tat Thanh Cang reported economic growth reached three year high this year, competitiveness and production and trading had been improved.

Gross Domestic Product (GDP) is estimated to hit VND962 trillion (US$42.81 billion), up 9.8 percent over 2014, making it the highest level for the last three years. Gross regional domestic product (GRDP) is estimated to hit 7.72 percent.

Total retail revenue of goods and services approximated VND683 trillion (US$30.39 billion), up 11.4 percent, purchasing power remained rather good, consumer price index increased about 1 percent, a half lower than the country's rate.

Total export turnover excluding crude oil neared US$27 billion, up 9.9 percent over last year. Import reached US$32.77 billion, up 6.2 percent.

The city has set targets of 8 percent GRPD growth next year. Total social investment capital will top 35 percent of total, the rate of trained workers will reach 75 percent.

Credit outstanding is expected to hit VND1,207 trillion (US$53.73 billion) this yearend, a year on year increase of 13 percent. Of these loans in Vietnamese dong has held a major part and remained stable growth. The most credit growth has been for production and trading and business assistance accounting for 80 percent of the total credit outstanding.

Oversea remittance to the city is estimated to attain US$5.5 billion, up 10 percent over last year.

Before the session was opened, the city People's Committee withdrew a statement proposing the People's Council to permit HCMC Infrastructure Investment Joint Stock Company (CII) to increase toll level at booths in Hanoi Highway. It was expected to hike the toll rates on automobiles of less than 12 seaters and trucks of more than ten tons.