The New Zealand Embassy in Hanoi and Consulate General in Ho Chi Minh City December 18 announced the official logo to brand the 'New Zealand – Open to the New' season of events to celebrate 40 years of diplomatic relations between New Zealand and Viet Nam.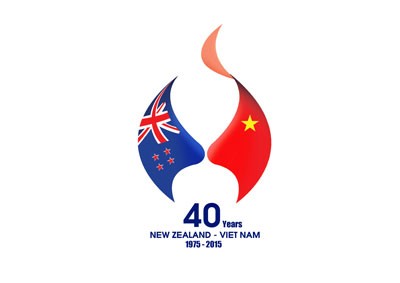 The official logo
A young Vietnam designer, Tran Giang Nam is the winner for the first prize of VND20,000,000. Giang's design is inspired by the fusion of highlights in the cultures of both New Zealand and Viet Nam.
The organizer received over 500 entries from many different parts of the Vietnamese public. Many of the entries are very creative, covering distinctive features of New Zealand and Vietnam and was very hard for us to choose a winner, said HE Haike Manning, New Zealand Ambassador to Vienam.
"The winning logo is inspired by the "Hongi", the traditional greeting style of 'New Zealand's Māori community. The Hongi involves the touching of two noses, clearly seen in Nam's design, and symbolises the sharing of ones' life force through exchange of breath. The official logo is also the modern symbol of Vietnam's beautiful lotus, and the combination of the flags of our two countries. This official logo will be used as a core part of the branding for the events and activities to mark the important milestone of 40 years of bilateral relations" , Ambassador Manning added.
Special gifts will also be sent to students of An Hoa secondary school in the Mekong delta city of Can Tho, who submitted many creative logo entries, all drawn by hand.
The anniversary year will commence with an official launch to kick-off the 'New Zealand – Open to the New' on 5 February, and will be followed by many other exciting events and projects throughout the year to showcase a slice of New Zealand in Vietnam and the broad cooperative links between New Zealand and Vietnam, including in education, culture, trade, and development.