A festival promoting cultural exchange between Vietnam and the Republic of Korea (RoK) took place in the central city of Da Nang on December 12 as part of activities to celebrate the 23rd anniversary of diplomatic ties between the two countries.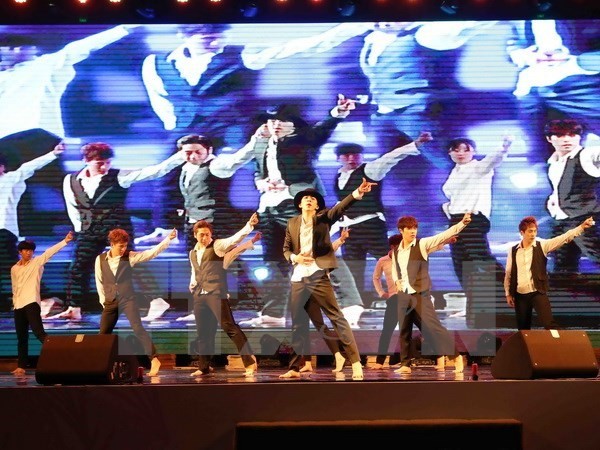 Arts performance at the festival (Source: VNA)
Co-hosted by the Korean Cultural Centre in Vietnam and the municipal Department of External Affairs, the event included a RoK cultural exhibition, a display of photos of Da Nang, and an artistic programme performed by Vietnamese and RoK troupes.
Speaking at the event, Vice Chairman of the municipal People's Committee Dang Viet Dung highlighted the development in the Vietnam- RoK relations in all fields, especially vibrant cultural exchange.
The affiliation between the RoK and Da Nang city will receive a new boost with the recent launch of a direct air service between Da Nang and Incheon city, he said. RoK tourists comprise the second largest segment of foreign tourist arrivals in Da Nang.
RoK Ambassador to Vietnam Jun Dae Joo affirmed the two countries have reaped significant achievements in their multi-faceted ties over the last 23 years, especially in economics.
The RoK is currently the leading foreign investor in Vietnam, and two-way trade is expected to hit nearly 40 billion USD this year. The number of RoK visitors to Vietnam has surged by over 30 percent so far this year, while that of Vietnamese travelling to the RoK increased by nearly 15 percent over the same period last year.
The diplomat said Da Nang is a dynamic city with great potential for economic development. He added that the direct air route between the city and the RoK will facilitating links between the two sides' enterprises.-VNA