Vinasun's taxi driver Ho Minh Thuan took a two year old boy who has been abandoned in his cab to the People's Committee of Ward 1, District 8, Ho Chi Minh City early December 2.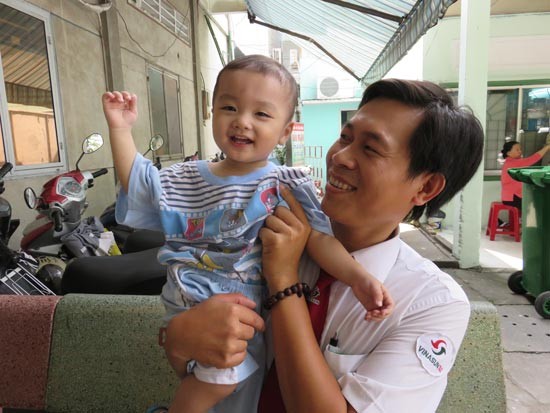 A fellow worker of driver Ho Minh Thuan holds the baby on the morning of December 2 (Photo: SGGP)
According to Mr. Thuan, he picked up a tawny and thin woman of about 30 years old who held the baby from Trung Son area, District 7 on December 1 at 23:20 pm. The woman asked him to take her to an adress in Ton Dan Street, District 4.
After arriving at the place, she asked him to return Trung Son, and then wanted to come back to Ton Dan and vice versa.
By 1:30 a.m. on the following day, she asked the driver to drop her off at Kenh Xang Brige and told him keep baby for a while because she did not have enough money for paying the taxi fare.Then she went out to borrow money.
However the woman did not return after going into a nearby alley. Mr. Thuan waited for one and a half hour before taking the baby to the Ward 1 People's Committee in District 8.
The committee chairwoman Vu Yen Oanh said that they are taking care of the baby. He can babble only few words, thus they can not get any information from him.
Ms. Oanh said that if no relatives come to receive the baby, the baby will be sent to the district Department of Labor, Invalids and Social Affairs or the social sponsoring center.