The former East West Boulevard which has been renamed Mai Chi Tho-Vo Van Kiet Boulevard is the city's key traffic work expected to create a foundation for the development of the eastern part. However traffic jam has been increasing at crossroads with the boulevard in Districts 1 and 2 during peak hours for the last two years.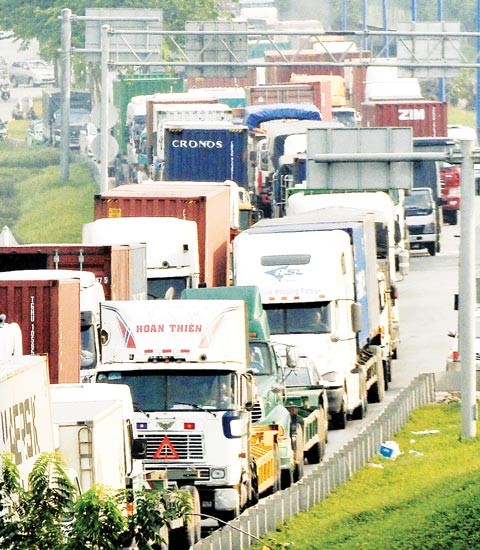 Vehicles moving towards Cat Lai crossroads from Mai Chi Tho street in District 2 (Photo: SGGP)
Traffic jam has occurred every day in Mai Chi Tho that has been designed for container trucks to travel 24/7 to and from Tan Cang and Cat Lai seaports. The worst congestion is in the left turn from the street to HCMC-Long Thanh-Dau Giay expressway.
Director of Saigon Tunnel Management Center Tran Chi Trung said that they have recently improved An Phu intersection to solve traffic jam in Mai Chi Tho street. However it has been found work insignificantly.
The Department of Transport has proposed the city's Compensation Assessment Council to assess a compensation measure to clear the site for upgrading Luong Dinh Cua street, which will facilitate vehicles' travel to District 1 through Thu Thiem bridge in stead of flocking to Saigon River Tunnel.
In the other side of Saigon River Tunnel, junctions between Vo Van Kiet and Nguyen Thai Hoc; Vo Van Kiet and Ky Con in District 1 have got stuck in traffic jam lengthening up to Nguyen Van Cu Bridge area, where have many intersections linking districts 4 and 5 with 8.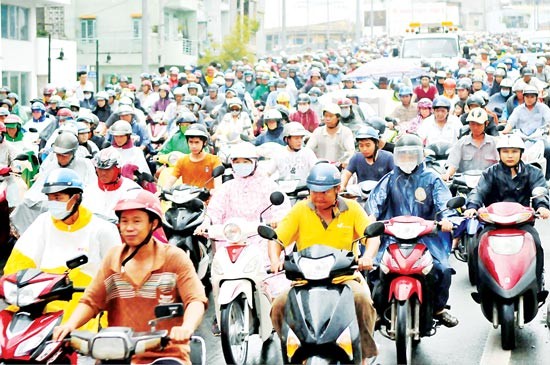 Vehicles travel into Cao Xuan Duc street from Cha Va bridge (Photo: SGGP)
According to the center, the volume of vehicles from District 2 to District 1 has recently rocketed to 25,000 automobiles and 150,000 motorbikes a day, causing gridlock at intersections with Vo Van Kiet boulevard from Ky Con, Calmette, Tran Dinh Xu streets and Ong Lanh Bridge.
Although Ong Lanh Bridge has been broadened to three lanes but the condition has not improved much.
The Department of Transport said that imminent measures would be carried out to rationalize traffic flow and traffic lights in these areas.
Besides, the department has implemented a project to build a 300 meter long branch of Nguyen Van Cu Bridge to connect with Vo Van Kiet boulevard. Under the project, vehicles will move straightly into the boulevard instead of via Tran Hung Dao street causing traffic jam.
The project is expected to open to traffic by 2017 at a total cost of VND170 billion (US$7.68 million).