A connection ceremony of the Thu Thiem Tunnel under the Saigon River linking Ho Chi Minh City's districts 1 and 2 was organized on Tuesday.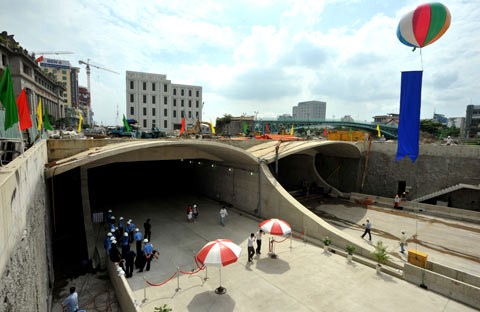 A photo taken Sep. 21, 2010 shows the entrance to the Thu Thiem Tunnel on the District 1 side (Photo: VNExpress)
The ceremony of the first under-river tunnel in Vietnam took place on the district 1 side.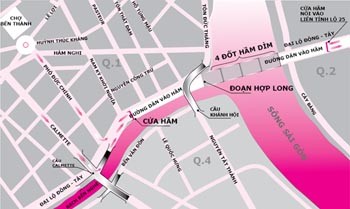 Map made by Tuoi Tre Newspaper shows the Thu Thiem Tunnel position in Ho Chi Minh City
The tunnel is about 1,490m long and 33m wide with four immersed sections beneath the Saigon River, with the final section's installation being completed early last month.
The six-lane tunnel with maximum permissible speed at 60 kilometers an hour will facilitate the traffic from the city downtown to the Thu Thiem New Urban Area.