Saint Petersburg firms are willing to partner with Ho Chi Minh City in trade, foodstuff, traditional medicine, information technology, clean water supply and wastewater treatment.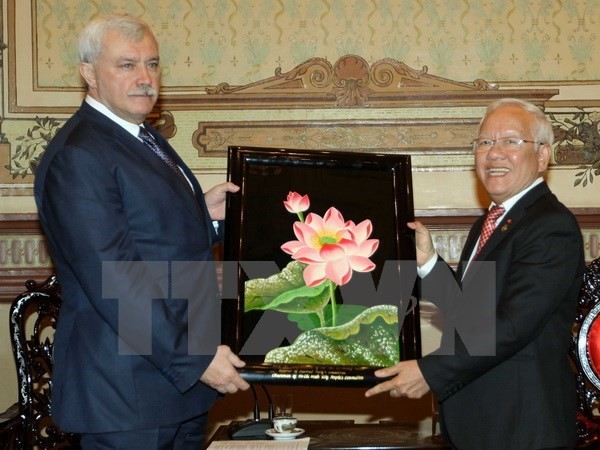 Governor Georgy Poltavchenko (L) and Chairman Le Hoang Quan (Source: VNA)
Visiting Governor Georgy Poltavchenko made the statement during his meeting with Chairman of the municipal People's Committee Le Hoang Quan on December 8.
Poltavchenko said both sides will launch more education-culture connections following meetings during the visit, adding that Saint Petersburg wants to work with Ho Chi Minh City in the fields of tourism and transport infrastructure.
He suggested establishing a working group to realise the initiative in mid-2016.
Quan, for his part, said the visit is concurrent with the 10th anniversary of the signing of a cooperation agreement between Ho Chi Minh City and Saint Petersburg (December 9).
He pledged all possible support to bilateral economic affiliations to match political ties between the two countries and localities.
The host informed his guest that the Saigontourist company and Saigon Trading company will invest in tourism and trade in Russia in the foreseeable future.
Russia is current investing in 21 projects topping US$30 million in Ho Chi Minh City.
In January-August, the southern metropolis welcomed around 50,000 Russian visitors and its two-way trade with Russia surpassed US$200 million.