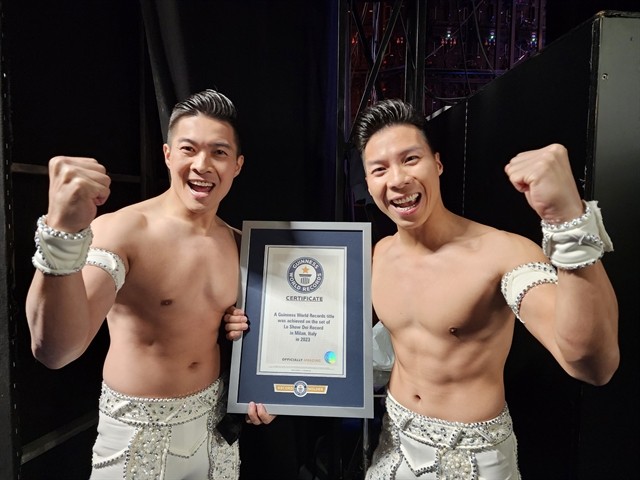 Quoc Co and Quoc Nghiep's certificate of the Guinness World Records.
The Giang brothers received an invitation from the Banijay Italy Group to set the record last month and they had just a few weeks to prepare.
On February 3, the blindfolded artists did a balancing act on a 50cm-wide and 2m-high stair. Nghiep balanced vertically atop his brother's head while Co climbed 10 steps, went across 10m and went down 10 steps in 1min 55sec.
"It is a world record because it will be the first time this act is performed to the world public," Co told Vietnam News prior to their trip to Milan.
"I missed a step early but fortunately we quickly gain our balance back and finished our performance. We couldn't hold our happiness and emotion after completing the challenge," said Co after receiving the certificate.
"We made a Guinness record and did not let our supporters down," he said.
Both of the performers worried and were nervous a little because they fell down and get hurt in their trials prior to the official show. Earlier, they also fell down when practising at home, which caused Co's leg pain while Nghiep suffered pains in his shoulder and neck.
After their performance, Co hugged his younger brother tightly to celebrate, and they shared their emotional moment that marked a brilliant end for their international career. They will no longer perform outside Vietnam in the future.
"It seemed that our brotherhood played key role in our success. We love, respect and protect each other. My brother is a strong base for me when I am atop," said Nghiep.
"Other strong motivations are our patriotism and national pride. We are proud to be Vietnamese and want to make Vietnam well-known in the world. Winning the world record brings a difficult-to-describe feeling to us. We are either happy or regretful because we have been going on a long journey and it is time to stop. There will be no more Quoc Co - Quoc Nghiep internationally, but I feel so grateful to everyone," he said.
Meanwhile, Co said he did not feel regret because now his brother would not suffer from pain and injuries.
After the Milan show, the Giang brothers will focus on doing whatever they want and perform (locally) whenever they are ready.
"We stop competing but we keep performing. We will nurture young talent and inspire people with our love for acrobatics," said Nghiep.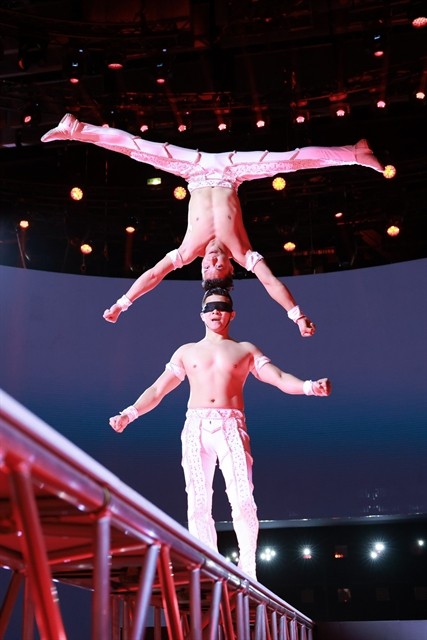 Vietnamese acrobatic artists Giang Quoc Co and Giang Quoc Nghiep (top) grab their third Guinness World Record on February 3 in Milan, Italy, — Photos of Quoc Co-Quoc Nghiep
The two artists will remain in Milan until February 7 for interviews and making documentary videos but they said they really missed home and wanted to see and celebrate with their families who strongly supported them in their 20 years in acrobatics.
Previously, Co and Nghiep set two Guinness World Records.
They earned the most consecutive stairs climbed, 90, while balancing a person on the head, achieved in 2016 in Spain. Five years later, they broke their own record by climbing 100 stairs in 53sec at the same venue. Another record is the fastest time of 53.97sec to descend and ascend ten stairs while balancing a person on the head (blindfolded) in 2017 in Italy.
They also made a big splash with a top five finish at Britain's Got Talent Final in 2018.