The five-star Sea Links Beach Hotel has started operations in Phan Thiet City, home to the resort town of Mui Ne, and plans to hold a soft opening ceremony in the middle of October 2010.
The hotel is part of Sea Links City, a complex of luxury properties owned by the Rang Dong Group including Sea Links Golf & Country Club, and golf course villas.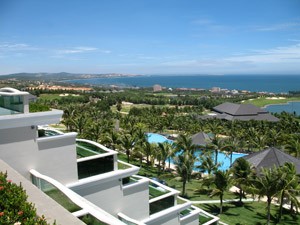 A panoramic view seen from the top-floor lounge of the Sea Links Beach Hotel (Photo: Tuong Thuy)
It is the first five-star beach hotel in Mui Ne, offering a magnificent view of the cape. Standing on top of a hill, the hotel offers a panorama of the sand dunes and the ocean in the distance, which is blue all year round since Phan Thiet has more than 300 sunny days a year.
The top floor is for reception and the lounge. Under it are the five levels that include 188 rooms, all facing the ocean to provide a panoramic sea view. The rooms have floor-to-ceiling glass windows so that guests can see an ocean view with bobbing boats, even when they relax in the bathtub.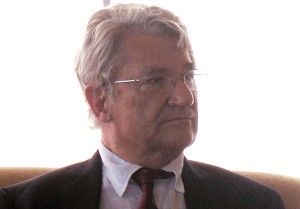 Frenchman Max Jean, general manager of the Sea Links Beach Hotel (Photo: Tuong Thuy)
Down the hill are four swimming pools, where guests can take a closer look at the 18-hole Sea Links golf course.
Phan Thiet is about 200 kilometers northeast of Ho Chi Minh City. According to the hotel's management, chauffeur service can be arranged to pick guests up from Ho Chi Minh City's Tan Son Nhat Airport to Sea Links City.