The Department of Animal Health declared an epidemic of the H5N1 avian flu in poultry in three communes of the Mekong delta provinces of Vinh Long, Tra Vinh and the H5N6 avian flu on flocks of quail in Tinh Ha Commune in the central province of Quang Ngai's Son Tinh District.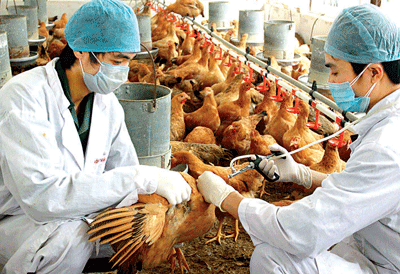 Vets injecting vaccine to prevent bird flu (Photo: SGGP)
Deputy Health Minister Nguyen Thanh Long yesterday sent an urgent dispatch to chairpersons of people's committees nationwide asking to step up efforts to prevent bird flu and diseases in upcoming Tet (Lunar New Year) holidays when weather is conductive to outbreak of flu disease.

As per the dispatch, the deputy health minister ordered local administrations to implement proper measures preventing winter disease, especially flu A/H5N1 and flu A/H5N6.
Local governments should coordinate with health sector and animal health department to manage food safety and poisoning. They should conduct inspection of food safety and hygiene as well as issue harsh penalties on violators.
Health workers must work around the clock during holidays to control the urgent cases and provide timely treatment to patients.

The Health Ministry also proposed departments of agriculture and rural development to enhance supervision in a bid to early detect outbreaks of diseases and bird flu to stop spreading. Related agencies should liaise to tighten control of sales and transportation of diseased poultry out of the affected communes.