The Drug Administration of Vietnam said Tuesday that it did not find any cancer-causing agents in Johnson's Baby Shampoo, manufactured by US-based Company Johnson & Johnson.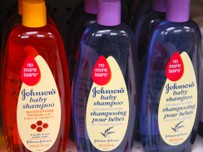 Johnson's Baby Shampoo
According to test results conducted by the Institute of Drug Testing in Ho Chi Minh City, Johnson's Baby Shampoo was found not to contain the two substances of Quaternium-15 and 1.4-dioxane, which are known to cause cancer.
Vietnam authorities ordered tests of the product after local and foreign media warned that the shampoo for children contained the two above toxic chemicals.
1.4-dioxane is used to make a cosmetic product smoother and gentler on the user's skin, while formaldehyde-releasing preservative Quaternium-15 is also used to enhance many cosmetic and pharmaceutical preparations. Both items are banned and prohibitive products in Vietnam.