British Council, in partnership with the Ministry of Education and Training, will launch a competition to promote a fantastic new bi-lingual website www.teachingenglish.edu.vn designed specifically for upper secondary teachers of English teaching textbooks grade 10, 11 and 12 in Vietnam.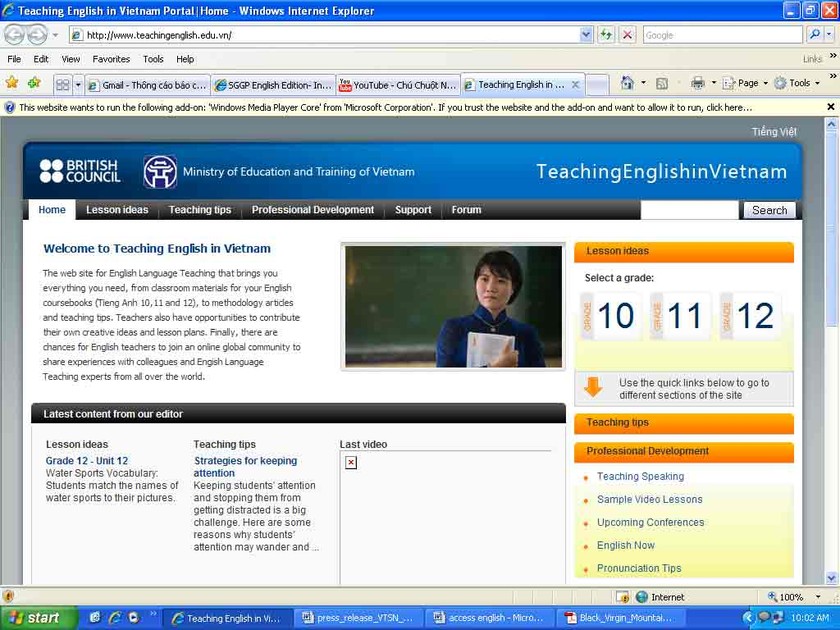 The website's surface. The website desigend to help high school English teachers
The organizers will officially announce the launch of the competition at the Grand Hotel in Ho Chi Minh City on September 17. Key figures from the Ministry of Education as well as ELT specialists and teachers from 6 provinces in the south of Vietnam will attend the ceremony.
With a wealth of materials already available on the net for teachers and learners of English, the Ministry of Education have worked with the British Council to create a unique website for Vietnam which links this abundance of materials directly back to the English course books for Grades 10, 11 and 12.
Mr Nguyen Vinh Hien, Vice Minister of Education and Training, says: "The site is a very useful source of materials for both teachers and learners of English in Vietnam especially for upper secondary school sector, which can help meet the need for strengthening the English teaching and learning capacity."
The website provides teachers with useful teaching resources, techniques and methodologies which have been consulted by Vietnamese and British specialists. With this support, teachers can improve their teaching skills and use the materials effectively in their daily teaching"
For teachers who need to fulfil the requirements of the curriculum but also want to motivate their learners through more interactive activities, it is now just a simple matter of logging on to www.teachingenglish.edu.vn, clicking on the grade and unit you are teaching and selecting an activity to supplement your lesson. Guidelines for using the activities are in both English and Vietnamese. And there are also low-tech options for using the materials in classrooms without a computer.
Teachers can also find tips on dealing with a range of everyday problems such as correcting errors and managing large classes. There is also a section on professional development and opportunities to become part of a global network of teachers via our online forum.
Simon Beardow, Deputy Director, British Council, says, 'The teaching English website is a great example of how British Council's Access English project remains committed to working in partnership with the Ministry of Education and Training to provide teachers of English across Vietnam with access to quality teaching resources and opportunities to engage with other English teachers from around the world.'
Access English is a 4-year project developed and run by the British Council in partnership with ministries of education in nine countries in East Asia including Indonesia, Japan, Korea, Malaysia, the Philippines, Singapore, Taiwan, Thailand and Vietnam.

Although there is great diversity in the region, what the above countries share is a need for support in developing national English language teaching agendas at both primary and secondary level. The project aims to provide support to changes in English language teaching in three areas: support for policy makers, support for teacher educators and support for teachers.