People's Committee in the northern province of Son La yesterday criticized managers of the Son La Tuberculosis and Lung Diseases Hospital for irresponsible behavior when it did not support vehicles to take dead patient home.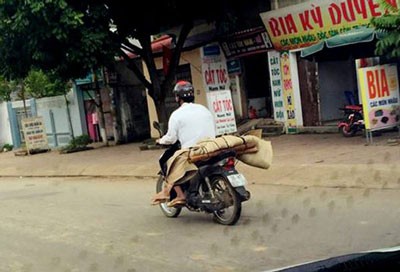 Lo Van Muon carries the body of his dead sister on his motorbike in a heartbreaking photo posted in internet
In a meeting with the Department of Health and the hospital, Chairman of People's Committee Cam Ngoc Minh said that the authority has asked the health sector in the province to carry out the state policy to support the poor.

The Department of Health was urged to increase supervision to medical facilities to prevent dead patients with contagious diseases from taking them home on motorbike without applying measures to prevent virus into the environment.

Moreover, the health sector should provide free vehicle to these families whose economic condition is so poor that they can not afford a vehicle to take their dead relatives home especially ethnic minority people in remote districts.

In its report to the Ministry of Health's Department of Medical Examination and Treatment about the case of Ms. Lo Thi Phanh, who was taken home on a motorbike, director of the Son La Tuberculosis and Lung Diseases Hospital Luong Van Tuan admitted his erroneousness because the hospital had not clearly explained to the dead woman's relative and support them free vehicle.

Before, Lo Thi Phanh in Muong Sai Commune in Quynh Nhai District was admitted to the infirmary. Yet she was succumbed to the disease. Her relative was forced to transport the body of deceased woman back to the hometown 120 kilometer far from the hospital by motorbike after not being able to afford a decent form of transportation.

Not only Lo Thi Phanh but also 57 year old man in Quynh Nhai who was also taken to the infirmary for emergency treatment yet he succumbed to her poor condition after one hour later. The infirmary did not provide vehicle for his relative; subsequently, his son took his father home by motorbike.