Deputy Health Minister Nguyen Viet Tien appealed to all related agencies, organizations and residents to adopt 'Hand Washing' with soap as an important and compulsory part of their daily lifestyle.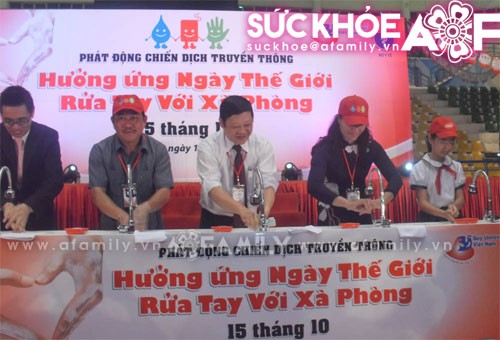 At the meeting
He was speaking at a meeting on October 15 in Hanoi in response to 'Global Hand Washing Day'.
The World Health Organization stresses that hand washing with soap can help reduce 35 percent of disease transmission for diarrhea, hand-foot-mouth, respiratory and other infectious diseases.
More than 200 primary students in Hanoi participated in the meeting.
'Global Hand Washing Day' aims to motivate millions around the world to wash their hands with soap. It is held on October 15 each year. The campaign is dedicated to raising awareness of hand washing with soap as a key method in disease prevention.