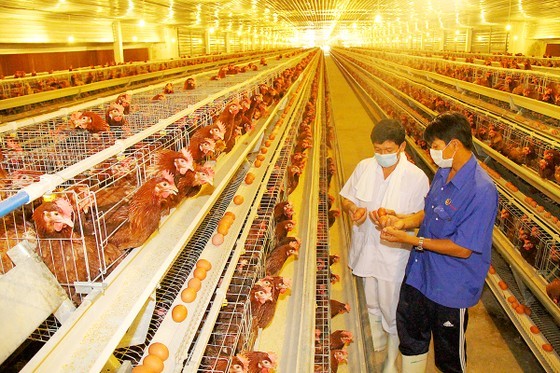 A battery-cage farm of Ba Huan Company
Many livestock enterprises are developing livestock and poultry cage-free breeding. Accordingly, hens will not be kept in cages but they are free to roam inside the poultry house.
Consumers are more willing to pay more for eggs and poultry meat in cage-free farms because this is a trend that many nations and environmental organizations have encouraged.
Nhat Thong Organic Farm in Ho Chi Minh City's Nha Be District has two cage-free farms that meet European organic standards. Chickens and ducks can play in the outdoor playground. On the duck farm, ducks can swim in a large pond while cage-free hens on other farms are able to walk and spread their wings.
According to Mr. Pham Huu Thoi, Director of Nhat Thong Agricultural Company, the farm currently raises more than 1,000 chickens and 300 ducks with an average area of 4 square meters each to play.
The company director said that it is necessary to keep the environment safe and minimize disease for this farming model. Camps must be made in a high place, easy to drain water, away from areas with a polluted environment, and must have buffer zones and fences to separate them from the outside.
Moreover, the cage must be designed with good ventilation, ensuring air circulation and natural light for feeding, and drinking but also keeping warmth in winter and coolness in summer.
Another rather difficult factor is that poultry often lay their eggs on rice husks and bushes, so the collection of eggs must be careful to avoid scaring the birds. On the other hand, the investment cost for cage-free farms is 30 percent-35 percent higher than battery cage farms. Thanks to natural breeding, the quality of poultry meat and eggs of hens in cage-free farms is better than that in industrial farms which pushes hens' bodies beyond the limit of what's natural.
Therefore, restaurants hotels in Ho Chi Minh City and high-class resorts prefer the products of Nhat Thong farm because most tourists request to use only eggs and poultry that are raised in the new farming model. Although the market is small and the investment costs are high, the selling price is about 30 percent higher than the selling price of normal chicken and duck eggs, the company still achieves 30 percent profit.
Because consumers increasingly favor poultry products, and cattle in cage-free farms, the company has built more farms to raise 10,000 chickens. Furthermore, not only chickens and ducks, the farm is also raising pigs, cows and goats according to organic standards in the Central Highlands Province of Dak Lak and the Mekong Delta Province of Hau Giang, said Mr. Pham Huu Thoi.
Similarly, recently, Vinh Thanh Dat Food Joint Stock Company (Vfood) has successfully implemented a chicken-raising model as per this standard which has been certified by the Humane Society International (HSI).
Mr. Truong Chi Thien, General Director of Vfood, said, more than 3 years ago, an HSI representative provide consultation and guidance for the new breeding. At first, learning that raising animals according to the new trend is costly whereas consumers tend to buy cheap eggs so the company managers hesitated. But when HSI informed that many hotels, restaurants, and companies that produce cakes, candies, food processing, and food products require to use products from cage-free farming at the request of customers, and this trend is also expanding globally, Vfood has decided to develop a model of raising hens that lay eggs naturally, not raised in the battery-cage farming.
In addition to the requirement of a non-contaminated natural farming environment, the new farms must be built not to be close to other farms to avoid infested animals. In particular, farm-raised food must not have animals' bones and the company must use antibiotics made according to its own criteria. Because Vietnam has not yet produced food and medicine according to such standards, Vfood has to find manufacturers to order its own production, said Mr. Truong Chi Thien.
After one year, the first batch of hen eggs was raised in Vfood's chicken farm in the Mekong Delta Province of Long Khanh with a total flock of 6,000 hens. It is estimated to supply about 1.5 million eggs annually. Vfood's luxury eggs have been on shelves at supermarket chains and hotels in Ho Chi Minh City such as Co.opmart, MM Mega Market, Annam Naman, and Sofitel hotel.
While consumers in the world have opted for products made from poultry raised in free-range farms, Vietnamese buyers have paid less attention to this.
There are no exact statistics, but according to representatives of some supermarkets, the consumption of the products is not high. In the current difficult economic context, more people prefer cheaper eggs and poultry meat from hens housed in cages.
There has been a gradual change in consumer trends in Vietnam. Ms. Le Thi Hang, Farm Animal Welfare Program Manager of HSI in Vietnam, after HSI consulted them for a long time, many livestock companies have been considering cage-free farming. HSI is firmly committed to accompanying enterprises during the transition to cage-free farming. Currently, the organization is also implementing a model of the new breeding method to raise pigs and cows at northern farms from orders from processing enterprises.
From a state management perspective, Ms. Ha Thuy Hanh, Deputy Director of the National Center for Agricultural Extension under the Ministry of Agriculture and Rural Development, said that now some countries must have certification for cage-free farming for the export of animal products.
Facing this trend, in the livestock development strategy for 2030, the Ministry of Agriculture and Rural Development has set a target that about 20 percent of chickens will be raised in cage-free farming. In addition, pigs are also bred on such new farms. Enterprises must actively associate with large farms to gradually transition to a new husbandry model for raising product value.