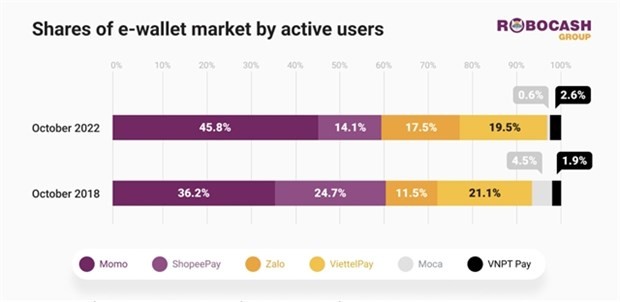 Images showing the e-wallet market by share of active users by Robocash Group. (Photo courtesy of Robocash Group)
In a report, Robocash Group said: "the modern e-wallet market in Vietnam is booming with 90% of the market falling on three wallets: Momo, Moca and ZaloPay."
The country is seeing tough competition, given that there are 40 electronic wallets in operation, the report said.
Robocash Group estimates that by July 2024, the e-wallet market will have 50 million active users, 100 million by May 2026, and 150 million by July 2030.
In addition to the already mentioned wallets, there are three other major competitors including ShopeePay (AirPay), ViettelPay and VNPT Pay. The top six already account for 99% of the market.
According to a Decision Lab study, at the end of 2021, 56% of the Vietnamese population that had an e-wallet use Momo. The portion is 17% for Shopee Pay, 14% for Zalo Pay, 8% for ViettelPay, 2% for Moca and 1% for VNPT Pay.
Robocash analysts observed that over the past four years, the number of active users has increased by an impressive 330%, from 12.3 million to 41.3 million.
About 57% of the country's adult population actively uses e-wallets, in contrast to just 14% at the end of 2018, which is considered significant penetration.
The Vietnamese e-wallet market can compete with traditional or digital banking, Robocash said, adding that the current six super apps mentioned above have unlimited potential to attract new customers not only within Vietnam itself but also beyond its borders.
By July 2030, the market share of active users will likely be distributed as follows: Momo 47.3%, ViettelPay 30.2%, ZaloPay 16.5%, VNPT Pay 5.6% and Moca 0.4%.