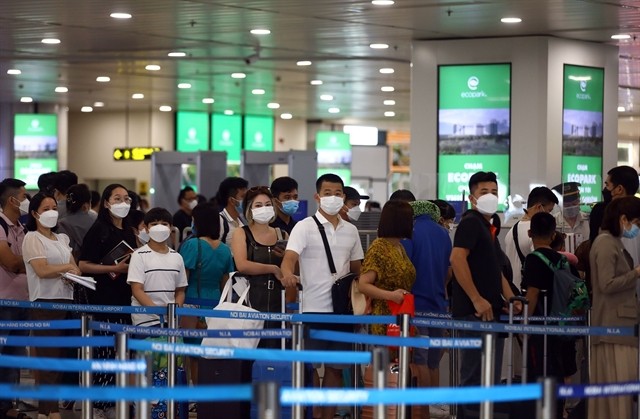 Passengers waiting in line to board a plane at Noi Bai International Airport.
That was the message from Bui Doan Nen, deputy chairman of the Vietnam Aviation Business Association who was speaking at the conference 'Creating an effective market mechanism for Vietnamese airlines' held in Hanoi on February 24.
He said passenger transportation was recovering but at a slower pace than cargo transportation. As such, the latter had returned to its operational level in 2019 whereas the former still had a gap to fill.
But it wasn't all doom and gloom. Nen said there was ample room for growth because a post-pandemic travel boom was looming, giving fresh impetus to the industry.
He forecast that Vietnamese airlines would rebound strongly this year because, unlike many foreign airlines which had to shut down during the pandemic, domestic airlines had weathered the storm afloat.
But despite this positive long-term outlook, the deputy chairman warned that there were many challenges ahead that needed addressing to ensure a strong recovery.
He believes Vietnamese airlines are on the mend but against a backdrop of mounting costs, including fuel costs. This unfavourable situation eroded their profits and led to an uneven recovery spreading along the supply chain.
Experts shared this view, saying that mounting fuel costs were a drag on the industry's progress because fuel contributed to over 40 per cent of airlines' total costs.
Last year, Jet A1 fuel hiked up by 80 percent in price to hit US$130 per barrel, adding heavily to airlines' operational bills. The fuel is expected to stay high this year, at between US$110 and US$130 per barrel.
The appreciation of the dollar against Vietnamese dong is another matter of concern for experts because most of the airlines' costs are denominated in the currency. Experts forecast that Vietnamese dong would weaken by around 4 percent against the dollar this year, adding to their woes.
Nen called on the industry to invest more in facilities and open new air routes to untapped countries to accelerate the recovery.
According to the International Air Transport Association (IATA), Vietnam was on top among the 25 countries with the fastest-recovering aviation industries last year.
In the first two months of 2023, the industry served 19.7 million passengers. Of these, 4.7 million were foreign travellers and 14.8 million were domestic ones. Around 42,500 tons of cargo were carried during the period.
IATA forecast that the industry would reach approximately 80 million passengers for the whole year of 2023, up 45.4 percent year-on-year, and 1.44 million tons of cargo, up 9.8 percent compared to last year.
Yuanta Securities Vietnam has an optimistic outlook for 2023, saying that the reopening of China would bode well for domestic airlines.
However, its positive effect would come as late as mid-year given China's non-inclusion of Vietnam in the list of 20 countries that Chinese travel agents could organize group tours.
The Ministry of Culture, Sports and Tourism has called on its Chinese counterpart to resume outbound travel tours to Vietnam to boost bilateral tourism flows. Meanwhile, Vietnam Airlines said it would reoperate nine out of 10 air routes to China by late April.