Ho Chi Minh City will seek to call for major investors to develop projects in the Thu Thiem New Urban Area by the Saigon River, which would be a new development center of the southern metropolitan, a master plan manager said Friday.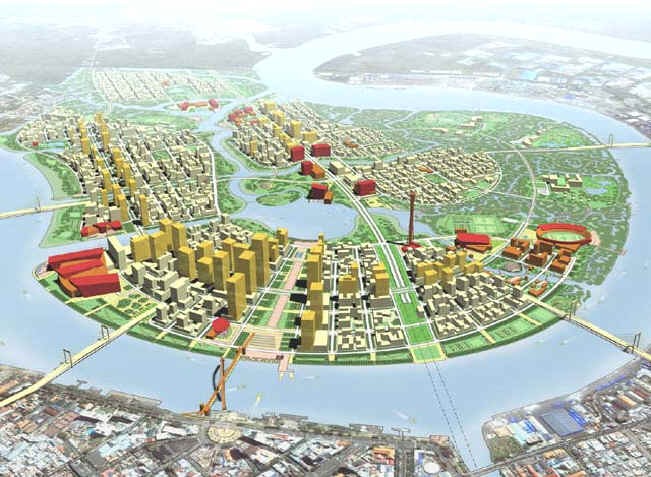 Mr. Trang Bao Son, deputy head of the Thu Thiem New Urban Area Management Board, said this at a press conference in HCM City on the development of the new urban area.
He said an 86-storey watchtower would be built in Thu Thiem. The developer would be a joint venture between Tien Phuoc of Vietnam and Capital Land.
The tower would be a striking structure in the whole area, according to him.
Thu Thiem New Urban Area, designed by Japan's Sasaki, will cover 7.7 km2 on Thu Thiem Peninsula. Once completed, this new urban area will replace District 1 as the city's center.
Given with the significant role, the city administration is determined to attract established investors to carry out sub-projects in the new area, according to Son.
"When meeting with us, international experts, advisors as well as investors highly appraise the new urban area. If work is done well, it will attract many investors."
Thu Thiem is connected with the existing downtown with several bridges and a six-lane tunnel under the Saigon River. The modern tunnel opened to traffic on November 20, 2011.
Ho Chi Minh City is currently looking for investors to developing Thu Thiem Software Park in District 2 as the city administration has revoked the license of TA Associates Vietnam for failing to carry out the project as scheduled.
Meanwhile, the Thu Thiem New Urban Area Management Board has just petitioned the city administration to revoke part of the Vietnam Japan Brain Park project for slow construction.