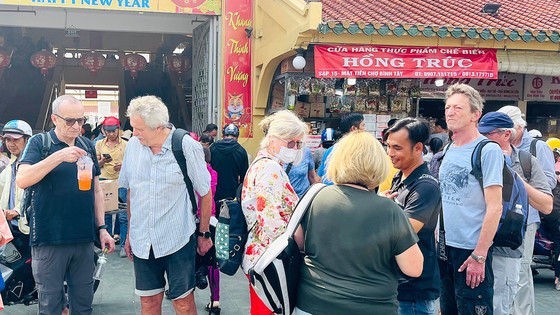 International tourists visit Binh Tay market, Ho Chi Minh City.
Apart from short-distance tours for visitors discovering Ho Chi Minh City, the destinations to the Mekong Delta, tours starting from Ho Chi Minh City to localities in the Central, Northern region and tours to foreign countries have been well implemented.
Some typical and remarkable tours being implemented during this Lunar New Year include "Saigon in Saturday afternoon"; "Beautiful Saigon – Double decker buses experience – Binh Tri Giang tour"; "Following Saigon Rangers"; "Experiencing yacht discovering Saigon - the pearl of the Far East"; "Following billionaires in Old Saigon"; "Kinh Yacht – Sunset in Saigon River"; "SUP rowing in Saigon River" and so on.
Besides, some points of interest are Nguyen Hue Flower Street 2023, "At the wharf, on the boat" spring flower market in 2023 in District 8 and so on.
Director of the Ho Chi Minh City Department of Tourism Nguyen Thi Anh Hoa said that the tourism sector of the city this year continued to grow, attract domestic and international visitors.
The city sets a target to welcome five million turns of international travelers, 35 million domestic ones with a total revenue of VND160,000 billion (US$6.9 billion) in this year.