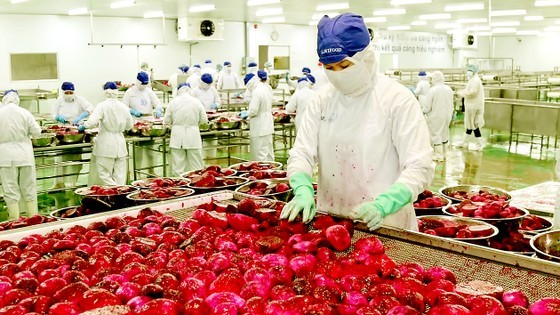 Processing dragon fruit for export in Long An Province. (Photo: SGGP)
In Can Tho City, Trung An Hi-tech Agriculture Joint Stock Company recently exported the first batch of rice to South Korea; In Kien Giang and Ca Mau provinces, export seafood processing enterprises have signed a series of contracts worth about US$70 million, mostly from fastidious markets, such as Japan, the EU, the UK, and the US.
Many orders
Mr. Tran Quoc Dung, General Director of Kien Hung Seafood Export Joint Stock Company in Chau Thanh District in Kien Giang Province, said that his company had just signed a contract to export two batches of steamed squid and fresh-water fish to Japan with a total value of $48 million and the contract completion time until April 2023. According to Mr. Tran Quoc Dung, Japan is a difficult market with many strict regulations for the seafood industry. Products must ensure traceability; The raising and fishing processes must comply with regulations. Fresh-water fish products, including Barbonymus altus, Barbonymus gonionotus, and carp, have attracted lots of customers. The provinces supplying raw farmed fresh-water fish are Long An, Tien Giang, An Giang, and Hau Giang.
After the Lunar New Year, most seafood processing factories for export in the Mekong Delta have welcomed workers back to work to meet export orders. Of these, three localities, namely Ca Mau, Bac Lieu, and Soc Trang, all strive to bring seafood export turnover to over $1 billion in 2023.
Mr. Huynh Thanh Tan, General Director of Ca Mau Seafood Processing and Services Joint Stock Company (CASES), said that from January 27, the system of five factories and three preliminary processing facilities of the company welcomed over 5,000 workers back to work. Mr. Nguyen Van Do, Director of the Department of Industry and Trade of Ca Mau Province, said that the province's export target set in 2023 is $1.3 billion, with the majority being shrimp exports. Assessing the seafood export market in 2023, Mr. Nguyen Van Do said that advantages and disadvantages are intertwined. Specifically, China has fully reopened, creating great advantages for exports to this market. "We commit to creating favorable conditions for export activities, continuing to encourage enterprises to export in traditional markets, supporting enterprises to negotiate and take advantage of opportunities from signed free trade agreements to boost exports," added Mr. Nguyen Van Do.
At this time, shrimp prices in two provinces with large shrimp farming areas, namely Kien Giang and Ca Mau, were stable and maintained at a high level. Specifically, black tiger shrimp sized 40 pcs per kg fetched VND156,000-160,000 per kg; white-leg shrimp sized 100 pcs per kg was priced at VND102,000 per kg, sized 50 pcs per kg at VND136,000, and sized 30 pcs per kg at VND168,000 per kg. The current price of shrimp, especially white-leg shrimp, is higher than last year, increasing by VND20,000-VND30,000 per kg compared to the time when it fell steeply in August and September 2022.
A representative of Trung Son Company in Kien Luong District in Kien Giang Province said that steamed shrimp products are being exported more strongly than frozen ones, accounting for approximately 70 percent. The main markets are the US, China, and the EU.
Export acceleration
On January 27, leaders of Can Tho City were present at Trung An Hi-tech Agriculture Joint Stock Company to witness the enterprise exporting the first batch of high-quality 100 percent broken rice to the Korean market. Mr. Pham Thai Binh, General Director of Trung An High-tech Agriculture Joint Stock Company, said that the company signed and would export 20,000 tons of rice to South Korea until April 2023, with a fairly high export price of $468 per ton. In addition, the company also signed a contract to export 6,000 tons of fragrant rice to Singapore and Malaysia. "Currently, the company has linked with farmers in many provinces in the Mekong Delta to produce about 9,000 hectares of fragrant rice and high-quality rice associated with consumption, creating an abundant raw material area. The freight rates have been more favorable. Certainly, export businesses will take advantage of this opportunity to speed up exports," said Mr. Pham Thai Binh.
In Long An Province, rice production reaches nearly 3 million tons per year, with many types of rice being processed and exported, such as Jasmine 85, Nang Hoa, Thom Lai, and sticky rice. Long An has over 160 enterprises and establishments producing, trading, and processing rice to serve domestic consumption and export demand. Twenty-five enterprises are allowed to export rice directly. Of these, three enterprises are allowed to export rice directly to China. When the Chinese market returns to normal, rice exporters will make good use of this opportunity. Many localities are taking advantage of building raw material growing areas associated with production standards to accelerate exports to China and EU markets.
Along with Hau Giang and Can Tho, Long An Province has focused on methodically investing in nearly 11,000ha of lime. Of which, Ben Luc District accounts for about 7,000ha. The district has developed high-tech agriculture on approximately 2,000 hectares of lime. For the sustainable development of lime trees, the Ministry of Agriculture and Rural Development has invested in technical infrastructure projects to build bridges and dykes in combination with roads to transport agricultural products and the sewage and electricity system for irrigation and drainage for the lime growing areas. Nearly 5,000 hectares of lime benefited from this project. The project has an investment of roughly VND200 billion, creating favorable conditions for lime farmers. Especially, Long An Province is carrying out procedures to apply for a geographical indication of Ben Luc seedless lime to have a competitive advantage when exporting.
Ms. Chau Thi Le, Deputy Director of the Department of Industry and Trade of Long An Province, said that for agricultural products to reach out to the world, the department has closely coordinated with relevant units and localities to promote propaganda for farmers to understand the regulations and requirements of the import market; the category of pesticides and process of using pesticides in production, encouraging production under the VietGAP and GlobalGAP standards, ensuring food safety to improve competitiveness in the market.
This year's Lunar New Year, dragon fruit growers in Long An and Tien Giang provinces are delighted because dragon fruit selling prices have increased ten times higher than in the previous year. The price of Grade-1 dragon fruit is about VND40,000-42,000 per kg, and that of lower-quality dragon fruit is about VND30,000 per kg.
According to Mr. Vo Van Men, Director of the Plant Protection Sub-Department of Tien Giang Province, dragon fruit prices have climbed due to the great demand for Lunar New Year celebrations in China. In addition, customs clearance has also been fairly smooth. Moreover, the supply is low, but the demand is high, so the price of dragon fruit is advancing day by day. The province's agricultural sector has been strengthening training on the production of high-quality dragon fruit, promoting calls for investment in the deep-processing process to have more products from dragon fruit for export, helping growers improve their income.