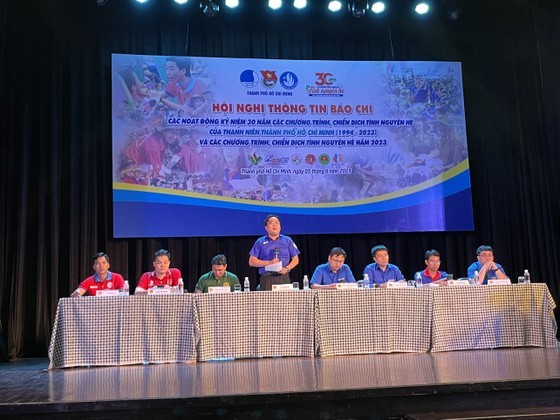 At the press conference to provide plans of the summer volunteer campaign in 2023.
The events aim at making the 30th anniversary of summer volunteer programs and campaigns of Ho Chi Minh City youth.
Six summer volunteer programs and campaigns in 2023 will be deployed simultaneously from June 11 to August 6, comprising Mua He Xanh (Green Summer), Tiep Suc Mua Thi (assistance for candidates in the national high school graduation examination), Hoa Phuong Do (Red Flamboyant), Ky nghi hong (Pink Vacation), Hanh quan xanh (young soldiers join social voluntary works), Gia su ao xanh ( blue-shirt tutors), and international volunteer activities on the islands and in cyberspace.The Ho Chi Minh City Youth Union said that the send-off ceremony of the summer volunteer campaign and programs will open on June 11.
The key activities of the 2023 summer volunteer campaign will continue to take place in Ho Chi Minh City and the provinces and cities of Binh Phuoc, Binh Thuan, Tay Ninh, Kon Tum, Gia Lai, Dak Nong, Ben Tre, An Giang, Vinh Long, Dong Thap, Tra Vinh, Tien Giang, Long An, Kien Giang, Hau Giang, Phu Yen, Ninh Thuan.
In addition, the campaign will be implemented at Thanh An Island Commune in Can Gio District, Ho Chi Minh City, Phu Quy Island District in Binh Thuan Province and Laos.
The 2023 summer volunteer campaign sets the target of mobilizing at least 125,000 young people with about 700,000 turns of ones participating in volunteer activities in the campaign and registration of 50,000 ideas and initiatives.
In addition, at least 100 kilometers of roads and alleys in length is expected to be upgraded and concreted; more than 45 beloved houses and houses of gratitude are set to be built and repaired; 70,000 trees will be planted; 3,700 new youth union members will be admitted; at least 500 elite union members will be admitted to the Party and so on.