The total value of the 50 most valuable brands in Việt Nam in 2016 amounts to around US$7.3 billion, an increase from around $5.5 billion last year.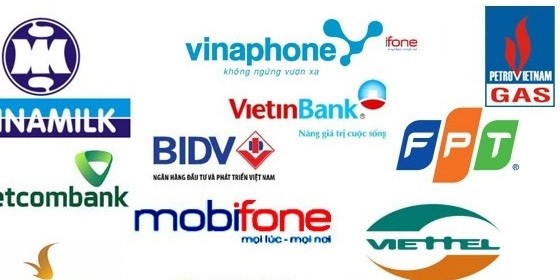 The total value of the 50 most valuable brands in Việt Nam in 2016 amounts to around US$7.3 billion, an increase from around $5.5 billion last year. — Photo cafebiz.vn
The information was released by Brand Finance at a ceremony to announce the nation's top 50 brands in Hà Nội yesterday. This is the list's second year in Việt Nam, a recognition of the development of the country's leading brand names.
The average growth rate of each brand in the Top 50 is 20 per cent, far exceeding companies from other ASEAN countries, which have flat or negative growth rates.
The total brand value of Việt Nam's Top 50 brands increased by 39 per cent over one year, suggesting that Vietnamese firms are gradually catching up with the global trend of investment in branding.
The Top 5 brands retained their positions, making up almost half (47 per cent) of the total brand value of all Top 50 companies.
Vinamilk is the strongest Vietnamese company in brand value and strength, and is the only Vietnamese brand with a AAA-rating in brand strength, despite an 11-per cent decrease in value from last year. Viettel Telecom is the most improved brand in terms of absolute value and for the first time made it into the Top 100 most valued telecom companies worldwide.
The Việt Nam banking and telecommunications industries also showed strong growth.
Three of the banks - VietinBank, Vietcombank and BIDV - made the list this year, BIDV for the first time and VietinBank and Vietcombank both improving their global rankings.
The growth rate of Việt Nam's telecommunications industry was even higher. Both Mobifone and Vinaphone achieved improvements in their Brand Finance Telecom 500 2016 ranking.
Speaking at the event, Samir Dixit, Managing Director of Brand Finance Asia Pacific, said this year marked sharp improvements for Vietnamese firms. Several breakthroughs in the ranking showed that Vietnamese firms are becoming increasingly aware of brand value, in particular, and intangible value, in general.
"The brand is the single largest intangible and a critical success-driver for both shareholder returns and business returns. If more than 50 per cent of a company's value is in the intangibles, not managing the brand as a strategic business asset isn't a choice but a necessity. Our study clearly shows that brands with strength rating of AAA* are twice as profitable over brands with a rating of A," Dixit said.
Lại Tiến Mạnh, Country Representative of Brand Finance Việt Nam, said several domestic companies have missed opportunities in mergers and acquisitions (M&A) by not taking brand value into account when evaluating deals.
"Việt Nam is entering globalisation with an increasing rate, especially due to the impending Trans-Pacific Partnership (TPP) and the continuing ASEAN Economic Community (AEC). With these free trade agreements on deck, local businesses should take measurements to prepare for an invasion of international brands. Therefore, branding should be considered as an important part of the preparation", he said.
He also added that "there is also a whole new level of M&A activities happening across various fields such as real estate, retail or fast-moving consumer goods (FMCG). The ranking will provide the market an important reference of how much investors should pay for a brand when they want to buy shares or make an M&A agreement."