LONDON, Sept 8, 2010 (AFP) - Former France coach Gerard Houllier was named the new manager of English Premier League side Aston Villa on Wednesday, the club announced.
The 63-year-old, who coached Liverpool between 1998 and 2004, has been working as National Coaching Director at the FFF since leaving his last top club, French side Lyon, in 2007.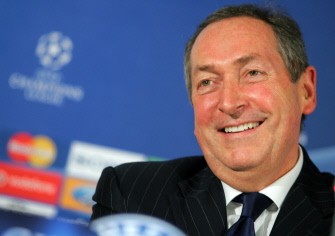 (AFP FILES) A picture taken on November 20, 2006, shows Olympique Lyonnais' coach Gerard Houllier smiling during a press conference at Santiago Bernabeu stadium in Madrid.
However, he had been given permission to step down from that position earlier on Wednesday by interim French Footballl Federation president Fernand Duchaussoy, who also said he would be signing a two year contract.
He takes over from caretaker Kevin MacDonald, who had been in charge since Martin O'Neill surprisingly left on August 9 just days before the start of the season.
Club chief executive Paul Faulkner said Houllier - whose last club coaching role saw him land two French titles with Lyon - "understands the ethos of our Club and shares our core values."
Houllier, who stepped down as France coach when they failed to qualify for the 1994 World Cup finals slipping up by losing their final two matches both at home, will be formally presented to the media on Friday, with his first game in charge away to Stoke on September 13.
"Two of the key qualities which we identified as being of crucial importance in our search for the new manager were experience of managing in the Premier League and a strategy for building on the existing strengths in our current squad," said Faulkner.
"Gerard Houllier comfortably satisfies these criteria."
Houllier told French radio station RTL that he had been itching to get back to the day to day business of coaching.
"I had a great desire to get back on to the pitch, but I had not received an offer as interesting as the Aston Villa one," said Houllier, who denied that he had been advised to move on by the FFF because of the fiasco at the World Cup finals in June.
"Since I left Lyon (in 2007), I have of course received several propositions, but that of Aston Villa is probably the best offer I have received to now in terms of the atmosphere, the conviction and on the human front as well.
"There is a good feeling between the president of the club (Randy Lerner) and his secretary-general (Faulkner). That resembles the one I experienced at Liverpool."
Duchaussoy said he had been told by Houllier that he "wanted to experience a new adventure in the field. That's his main motivation. It's a unique opportunity for him to re-live the experiences of the past."
Houllier, who guided Liverpool to the FA Cup, League Cup and Uefa Cup Treble in 2001 but lost the faith of the fans and was deeply unpopular when he left by mutual consent in 2004, is said to want his former Liverpool number two Phil Thompson to aid him but the players are said to be keen for the popular McDonald to fill that role.