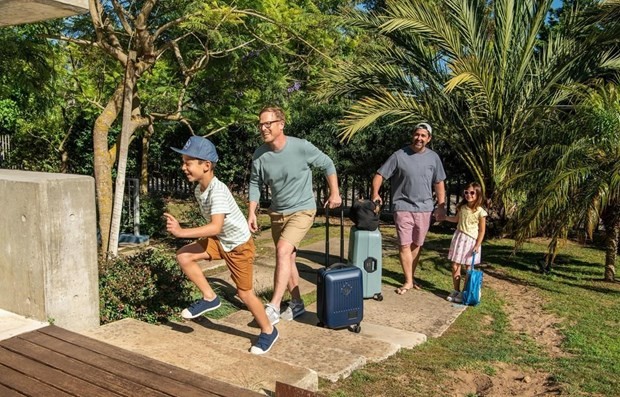 Luxurious accommodations in Vietnam have launched various promotion programs in anticipation of peak tourism season. (Photo: VietnamPlus)
Big discounts on luxurious accommodations
According to the Vietnam National Authority of Tourism (VNAT), with new breakthrough visa and immigration policies, and positive trends after the Covid-19 pandemic, the domestic tourism sector expects to welcome more international tourists in the time ahead, especially during the peak time, from September to March.
In anticipation of the peak season, most lodging facilities are working on improving services and personnel quality, and are stepping up promotional activities.
In the north, apart from hotels rated from two to four stars, many five-star hotels in Hanoi like the InterContinental Hanoi Landmark 72, Grand Vista Hanoi, and Hôtel du Parc Hanoi have joined the race, with discounts of up to 66%.
Visitors to Premier Village Halong Bay, a five-star hotel in Quang Ninh province, home to the UNESCO-recognized Ha Long Bay, will also enjoy up to 55% off on this occasion.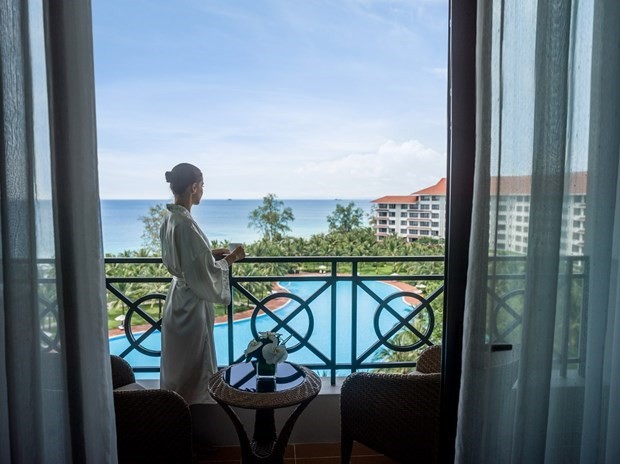 Luxurious coastal resorts race for discounts in the year-end travel season. (Photo: VietnamPlus)
Others in the central region such as Premier Village Danang Resort in Da Nang city, and Premier Residences Phu Quoc Emerald Bay are following the suit.
Since September, a number of online tourism booking platforms, including Agoda, Booking.com, and Expedia, have also rolled out a range of promotion programs for travelers booking for five-star hotels.
Experts suggested that apart from cutting room prices, hotels should raise their service quality in order to lure holidaymakers in a sustainable fashion.
Meanwhile, some luxurious accommodations said they will invest more in digital transformation and personnel quality, while seeking customers through the online booking platforms.
Aviation flexibility
Given the fact that domestic tours are more expensive than outbound tours due to rising airfares, the Vietnam Airlines Group, comprising Vietnam Airlines, Pacific Airlines and VASCO, said it will provide nearly 400,000 seats on domestic flights from August 31-September 5, in order to meet the increasing demand during the National Day (September 2) holiday.
The figure marks a 15% increase from the same period in 2019, before the Covid-19 pandemic broke out.
In the domestic market, there is high demand for flights between Hanoi and Ho Chi Minh and Da Nang, Nha Trang and Phu Quoc, Vietnam Airlines said, pledging that it will adjust flights to stay flexible and satisfy travel demand during the National Day holiday.
Vietnam Airlines Group also informed the media that it will also offer more than 155,000 seats on international flights, more than doubling that recorded in the same period last year.
The group advised passengers to purchase tickets through their official website, mobile app, or authorised ticket offices and agents. They also suggested that passengers request invoices to avoid buying counterfeit or inflated-price tickets.
Airlines also encouraged passengers to utilize various check-in methods to avoid crowded airports, including online check-in through the website or mobile app, self-service kiosks, and automatic or telephone check-in.