Nearly 200 photos of Viet Nam's sea and islands are on display at the HCM City War Remnants Museum to celebrate the 71st anniversary of the founding of the Viet Nam People's Army, which falls on December 22.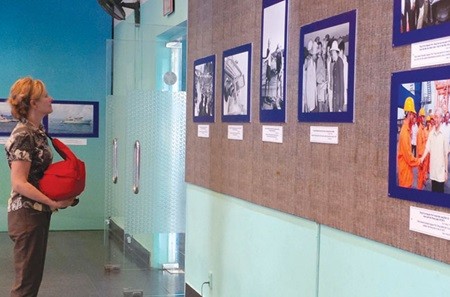 Natural beauty: A foreigner visits Viet Nam's Sea and Islands: Beauty and Peace photo exhibition at HCM City's War Remnants Museum. — Courtesy Photo of HCM City's War Remnants Museum
The exhibition, Viet Nam's Sea and Islands: Beauty and Peace, was organised by the museum in collaboration with press photo department of the Vietnam News Agency (VNA).
The exhibition includes valuable documents and photos taken by VNA photojournalists. They feature working visits of the country's leaders to coastal provinces and islands, such as President Ho Chi Minh at Thanh Hoa Province's Sam Son Beach in 1960 and Party General Secretary Nguyen Phu Trong at Hai Phong City's Dinh Vu Port in 2013.
The event highlights Viet Nam's ancient maps and documents issued by feudal dynasties from the 17th – 20th century, which show evidence of Viet Nam's sovereignty over the Hoang Sa and Truong Sa islands.
There are also works depicting the daily lives of residents and naval soldiers in the islands.
Photos of the beauty of the country's most famous destinations like Nha Trang, Con Dao, Phu Quoc and Ha Long are displayed as well.
The exhibition also depicts Viet Nam's potential in sea economic and tourism development.
Huynh Ngoc Van, the museum's director, said: "The exhibition creates an opportunity for both local and foreign visitors to learn about the beauty and resources of Viet Nam's sea and islands, which play an important role in national construction and development."
"We hope the event will educate young generations about patriotism and raise their awareness about protecting the country's sovereignty of its seas and islands," she added.
During the exhibition, the museum will host activities to highlight Viet Nam's sea and islands, including painting contests for children and music shows.
The organisers plan to bring the exhibition to soldiers, people and students in remote areas after it closes on April 11.
The museum is located at 28 Vo Van Tan Street in HCM City's District 3.