Vietnamese bodybuilders won two gold medals at the seventh WBPF World Bodybuilding and Physique Sports Championships that ended in Bangkok, Thailand, on November 30.
Dinh Kim Loan won a gold medal in the women's 55kg category, while Nguyen Van Kien claimed the gold and Nguyen The Quy took the bronze in the men's 1.60m classic category.
The southern An Giang province-born Loan has achieved success in many international events, while Kien from Binh Duong province is the first athlete to ever win a gold medal in the international arena, marking the progress of the sport in the province and the foundation for its further development.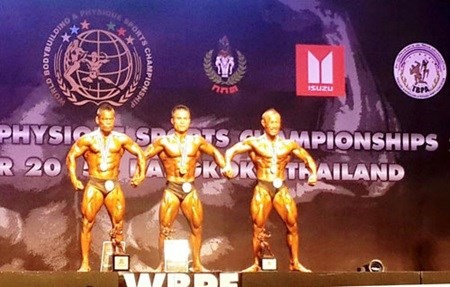 Nguyen Van Kien (centre) wins a gold medal at the 7th WBPF World Bodybuilding and Physique Sports Championships in Bangkok (Photo: baobinhduong.vn)