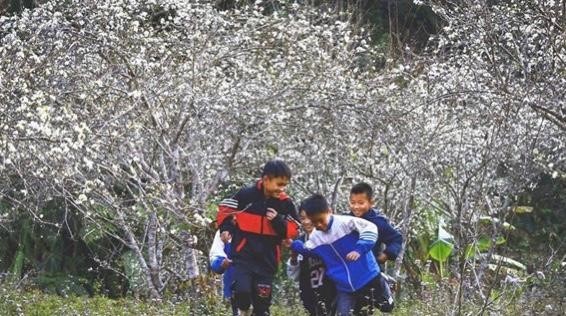 Phieng Ban Valley in Dien Bien Phu city, Dien Bien province is covered with plum flowers in spring. (Photo: VNA)
The statement was made by Ha Van Sieu, deputy head of the Vietnam National Administration of Tourism (VNAT), said on February 3.
He made the remarks at a press conference held within the framework of the ASEAN Tourism Forum (ATF) 2023 in the city of Yogyakarta, Indonesia, from February 2-5.
Last year, Vietnam welcomed a total of 3.66 million foreign visitors, 23.3 times higher than the 2021 figure. In January 2023 alone, the number of foreign tourists to the Southeast Asian nation reached more than 871,000, up 44 percent year-on-year.
The official said that Vietnam has a variety of tourism products. In addition to four main options, namely marine tourism, ecotourism, cultural tourism and urban tourism, it also boasts attractive complementary products such as luxury resort tourism, adventure tourism, wellness tourism, and golf tourism.
Introducing Vietnam's tourism policy in the post-Covid-19 period, Sieu said that Vietnam has resumed visa exemption for those from ASEAN countries, thereby helping people in the region travel easily. Its Government has also supported tourism businesses to reconnect with partners in the region through initiatives, tax and energy policies. Dissemination campaigns have been promoted, facilitating connections between tourism firms and international partners through attending international tourism events and forum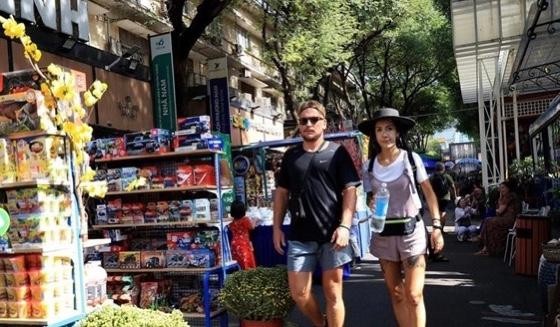 Foreign tourists visit book street in Ho Chi Minh City on the occasion of Tet (Lunar New Year) holiday. (Photo: VNA)
At the press conference, representatives of VNAT and Binh Thuan province briefed participants about the Vietnam National Tourism Year 2023 "Binh Thuan – Green convergence" to be launched this March. With a series of activities taking place throughout the year, this event will suggest the trend of sustainable green tourism development, thereby enhancing the competitiveness of Vietnam's tourism in the region and the world.
Themed "ASEAN: Journey to Wonderful Destinations", ATF 2023 is the largest annual event held alternately among the 10 members of the Association of Southeast Asian Nations (ASEAN), creating a space for cooperation to promote this region as an attractive tourist destination worldwide.