The export value of wooden office furniture reached US$370.3 million last year, down 15.9 percent over the same period in 2021.In the structure of wooden furniture exports last year, office furniture is the item with the strongest decline because exports to major markets such as the US, Japan, China and the UK plummeted.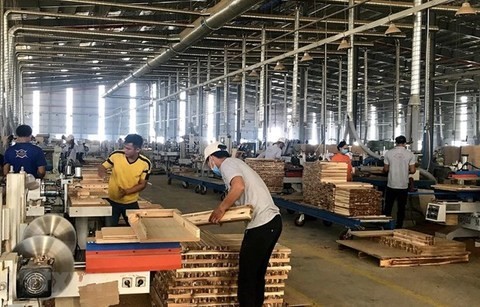 Producing wooden furniture for export at Trieu Phu Loc Furniture Co., Ltd, Tan Uyen town, Binh Duong province (Photo: VNA)
Office furniture exports were the largest to the US market last year, reaching US$225.4 million, down 13.6 percent over the previous year. Export value to the US accounted for 60.9 percent total export value of office furniture, followed by the Japanese market with US$67.7 million; the Chinese market with US$15.9 million; and the UK with US$13.6 million.
High inflation has made consumers prioritise spending on food and essential goods, thereby cutting spending on office furniture.In addition, high freight rates, along with a sharp rising in the purchase price of raw wood, increased production costs, making it more difficult for Vietnamese office furniture manufacturers.
The Import-Export Department said that the export prospect of wooden office furniture would also not be positive this year when the global economic situation was forecasted to continue to face many difficulties.However, statistics from the International Trade Centre (ITC) show that Australia's imports of wooden furniture reached US$1.6 billion in the 11 months of last year, a year-on-year growth of 4.9 percent.
The Import-Export Department said that even though Australia was one of the most demanding markets in the world with many certification requirements, high product quality standards, and strict import processes, its consumers had a high standard of living and were willing to pay for high-priced imported items if they were satisfied with the product.
Therefore, to penetrate the Australian market, exporters needed to give top priority to product quality instead of price, said the department, while, understanding customer tastes and focusing on building a solid brand for wooden furniture products.