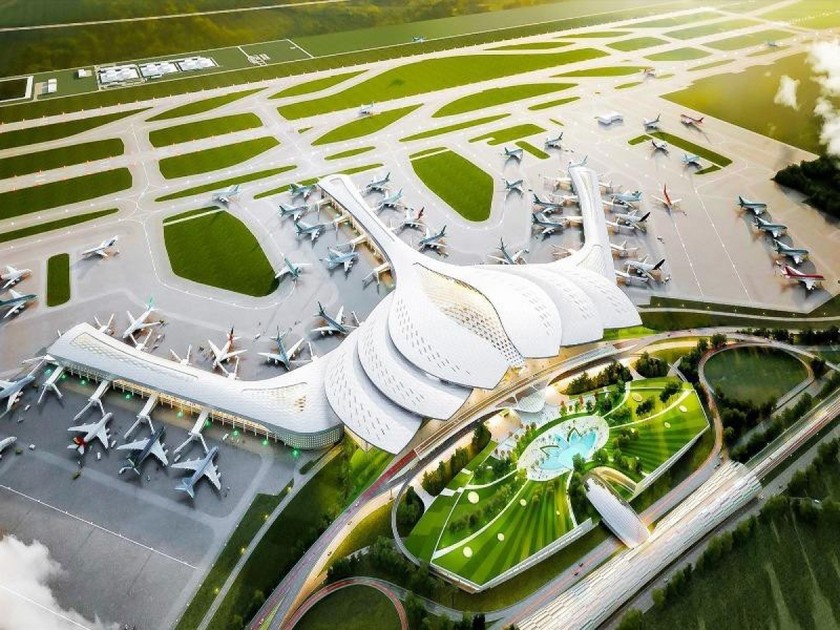 An artist's impression of Long Thanh Airport. Thu Thiem-Long Thanh railway project is planned to connect to the airport
Accordingly, the HCMC Management Authority for Urban Railway (MAUR) is asked to update control points and specifically develop suitable route plans, with clear attention on intersections between HCMC-Long Thanh-Dau Giay Expressway and this railway (An Phu Intersection and other intersections with Ring Road No.2, Ring Road No.3). MAUR is also requested to actively collect relevant technical documents from investors of related projects in order to ensure the consistency of these routes.
New stations are expected to have a sensible distance of about 1km. The distance between the two center lines of the track is planned to be 3.8m, which does not meet the 'Technical Level of National Railways' standard. Therefore, MAUR should review and adjust it in compliance with the regulations.
Decision No.568/QD-TTg, issued on April 8, 2013 by the Prime Minister, states that HCMC-Long Thanh-Dau Giay Expressway has a total cross-section width of 116-140m to accommodate space for roadways, railways (high-speed rail of the North-South route and Thu Thiem-Long Thanh Railway), and parallel urban roads.
At present, HCMC is constructing urban areas along the road boundary of 116m passing formerly District 2 and 140m passing formerly District 9, saving the lanes of 40m and 19,5m for shared and separated railways respectively.
In related news, the Transport Ministry informed yesterday about a project to upgrade Cao Lanh-Lo Te route passing Dong Thap Province and Can Tho City. The project is going to start this September, as it is now selecting consultants for the design stage (to be completed this June).
It is planned that the main Cao Lanh-Lo Te route with a length of 29km will maintain the scale and technical standards, basic geometric elements. The upgrade will only compensate the warping sections and strengthen the road surface with asphalt.
The lanes on this route will be rearranged to separate those for motor-vehicles and simple ones. 29 bridges on the frontage road will be rebuilt to suit the road size. A new intersection at the end of this route will be constructed, while a bypass for Long Xuyen City will be built to link with Cao Lanh-Lo Te route via overpasses and exits.
The project has a total investment of VND950 billion (US$40.2 million), taken from the state budget in the medium-term public investment plan for the 2021-2025 period. It is expected to finish in 2025.