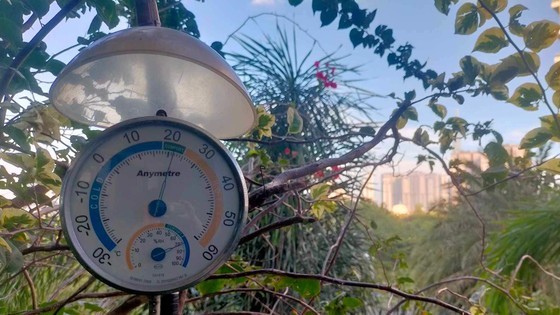 Temperature in Thu Duc City is measured at around 21 degrees Celsius.
Particularly, Thu Duc City, provinces of Lam Dong and Tay Ninh recorded temperatures at 21 degrees Celsius, 14 degrees Celsius and 21.8 degrees Celsius in the early morning; therefore, residents feel cooler than in previous days.
Meanwhile, both the Northern and Central regions have seen sunny weather with very low temperatures. Notably, the lowest temperatures on Fansipan Mountain (Lao Cai Province), Mau Son (Lang Son Province), Sin Ho (Lai Chau Province), Tuan Giao (Dien Bien Province), Lang Son City, Mong Cai City and Hanoi City dropped to minus 0.4 degrees Celsius, 5.5 degrees Celsius, 7.8 degrees Celsius, 8.5 degrees Celsius, 8 degrees Celsius, 11.7 degrees Celsius and 14 degrees Celsius respectively.
According to the National Center for Hydrology Meteorology Forecasting, from now to November 24, a strong cold air mass along with showers are warned for the Northern region.
The mid-Central, South-Central, Southern and Central Highlands regions will face days of showers to end this year's rainy season.
It is expected that at the end of this week, one more cold spell will hit the above-mentioned regions with moderate intensity.