FLORENCE, Italy, Sept 8, 2010 (AFP) - Italy coach Cesare Prandelli was a quietly satisfied man after his team thumped the Faroe Islands 5-0 at the Stadio Artemio Franchi here.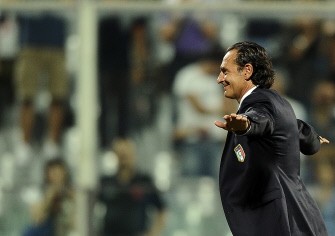 Italy's national team coach Prandelli celebrates after winning 5-0 against Faroe Islands in Florence on September 7, 2010. AFP
Following on from Friday's 2-1 win in Tallinn against Estonia, Italy now top Euro 2012 qualifying Group C and are looking in much better health than they did back in June when unceremoniously dumped out of the World Cup by Slovakia.
And for Prandelli there is an extra satisfaction that his gamble in rejuvenating an ageing and struggling team has paid off with two wins from two.
He tried four different full-backs, two goalkeepers and six different forwards over the two games and he says his ideas are getting clearer.
Alberto Gilardino, Daniele De Rossi, Antonio Cassano, Fabio Quagliarella and captain Andrea Pirlo scored the goals in a stroll in Florence on Tuesday but more important to the coach was the way the team played.
"There was a huge difference in technique but many times you can complicate matters for yourself," he said.
"We tried to play things simple, keep the ball on the ground, but when you're playing a team significantly inferior they need to be more organised and physical.
"We're happy but we know well that the road is long.
"To get a better idea of where we're at we must wait for harder challenges but our attitude was good.
"The forwards kept the right distance from the midfield, the midfield is very strong but they need to be quicker with their passing."
One thing he felt the players did was make his life difficult for the next game, but for the right reasons.
"I had an idea (of my best team) but they've made things difficult for me.
"All the players are part of the team but we're always looking for players who can adapt to this type of football."
Having played the two group favourites Italy and Serbia, Faroes coach Brian Kerr had no doubts about which team impressed him the most.
"Before the game I felt Serbia would be a little more direct in attack, particularly from the wings," he said.
"(Milos) Krasic and (Milan) Jovanovic are much more decisive in their attacking defenders.
"But the movement of Cassano and Giuseppe Rossi caused us much more problems tonight, along with the speed of passing in midfield with De Rossi, (Riccardo) Montolivo and Pirlo, they played at a faster tempo than (Serbia on) Friday."
Kerr, though, was still annoyed at his team's training facilities, although he wasn't using that as an excuse.
"It was disappointing that the arrangements were so poor, the pitch, but we got over it," he said.
"It's not the reason we lost heavily tonight, the team was too good. Where we trained wouldn't have made much of a difference but had it been Spain or France or a biggger team coming here (it would have been different).
"I can't believe it happened in such an esteemed country and esteemed city, but it didn't affect the outcome of the game."
One thing that did surprise Kerr was Italy goalscorer Fabio Quagliarella getting jeered by his own fans even after scoring.
Quagliarella used to play for Fiorentina but left to join Udinese.
"I thought it was a strange one, I didn't understand what was going on, booing him when he received the ball," said Kerr.
"It's strange, it's not something I've come across previously in international football.
"I think internal rivalries between clubs here and the movement of players between clubs lives long in the memories of supporters."