SINGAPORE, Aug 14, 2010 (AFP) - Street basketball, triathlon with mixed gender teams and relay races in the swimming pool.
Traditional Olympic sports have been adapted at the inaugural Youth Olympic Games that start in Singapore on Saturday to appeal to a younger audience and if successful could be included at future proper Olympics.
International Olympic Committee president Jacques Rogge is keen to see the Olympic programme evolve to reflect changing attitudes to sport and society.
"I think there are many issues that will emerge from this Youth Olympic Games that we could take over to the traditional Olympic Games," he said when asked what could be taken from Singapore to the Rio Olympics in 2016.
"We will have to see how this evolves but I am sure that this concept of adapting some sports events -- I'm not going to be specific -- is something that could be adopted for the traditional Games.
"We will experience them in these Games and if successful, we might translate that into the traditional Games."
The Belgian said tinkering with some of the formats in Singapore was designed to appeal to a younger audience and inspire budding athletes.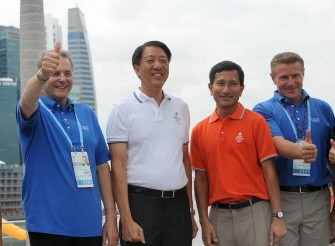 Jacques Rogge (L) and Sergey Bubka (R), former Ukranian pole vaulter, give a thumbs-up as they pose for photographers with Teo Chee Hean (2nd L), Singapore's deputy prime minister and Vivian Balakrishnan (2nd R), Singapore's minister for community development, youth and sports after a tree planting ceremony at Marina Bay Walk in Singapore on August 13, 2010. AFP
Key Olympic stakeholders were also happy to see the developments, he added.
Rio beat off rivals Chicago, Tokyo and Madrid to hand South America its first ever Olympic Games. The next Summer Games are in London in 2012.