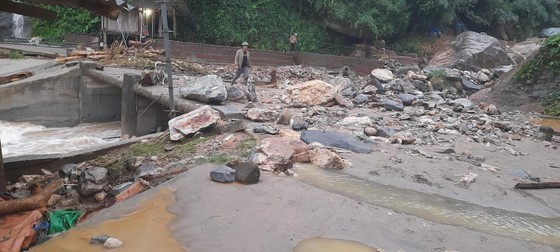 Lao Cai Province faces serious damages after heavy rain-triggered floods.
In the afternoon of the same day, the Standing Office of the National Steering Committee for Natural Disaster Prevention and Control said that a spell of heavy rain slammed Sa Pa town, Lao Cai Province, bringing a devastating surge of floodwaters across the villages of Nam Than and Nam Cang in Lien Minh Commune, Sa Pa Town.
As of yesterday afternoon, the flash flood left at least nine dead and missing.
Notably, floodwaters swallowed around 600 fish tanks in Lien Minh Commune, Sa Pa Town, causing more than VND250 billion (US$10.3 million) in damage.
Currently, four people still go missing and five others are seriously injured.
On the same day, Deputy Prime Minister Tran Hong Ha and Deputy Minister of Agriculture and Rural Development Nguyen Hoang Hiep arrived at the scene of flood-hit areas at Nam Cang Village, Lien Minh Commune to direct work on rescuing and overcoming the consequences of the natural disasters.
Deputy Prime Minister Tran Hong Ha requested Lao Cai Province to urgently review rivers, streams and places with a high risk of floods, flash floods and landslides; make a plan to evacuate people to safe places, regularly issue warnings of natural disaster risks.