The Ministry of Culture, Sport and Tourism in cooperation of the Nghe An Province People's Committee will organize a ceremony to receive the UNESCO certificate recognizing Vi-Giam folk singing as an Intangible Cultural Heritage of Humanity at the province's Ho Chi Minh Square on January 31, 2015.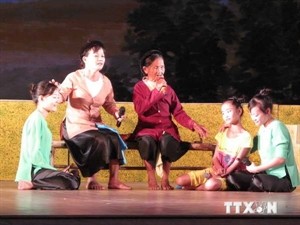 A performance of Vi-Giam folk singing (Photo: VNA)
Nghe Tinh's Vi-Giam folk singing was officially recognized by UNESCO as an intangible cultural heritage of humanity at the 9th session of its Inter-governmental Committee for the Safeguarding of the Intangible Cultural Heritage in Paris on November 27.
Deputy Head of the Department of Cultural Heritage Nong Quoc Thanh said Vi-Giam folk singing has history of hundred years in Nghe Tinh Province. It is passed down through generations, reflecting the work and cultural lives of people in the provinces. It appears also popularly in mothers' lullabies.