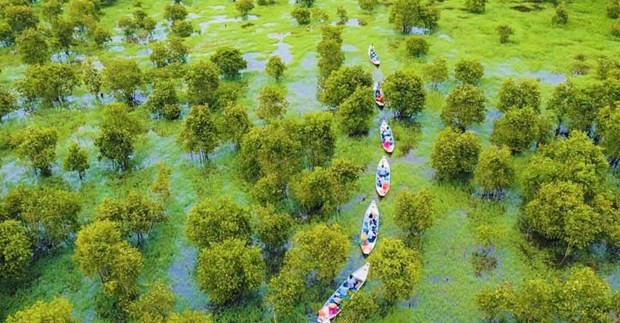 Part of the Tra Su cajuput forest in An Giang province. (Source: dulichvietnam.com.vn)

The 10 destinations, recognized by the Mekong Delta Tourism Association, comprise the ecotourism site of Tra Su Cajuput forest (An Giang province); the Noc Nang national historical relic site (Bac Lieu province); the special national relic site and the memorial site of scholar Nguyen Dinh Chieu, the tourism site of Hai Van farm tourism site - Vam Ho bird sanctuary, the Ben Tre TTC Palace, and the Ben Tre TTC culinary site (Ben Tre province); the Hung Kings Temple (Can Tho city); the Go Thap relic site (Dong Thap province); and the national landscape and relic site of Ba Om Pond; and the Huynh Kha ecotourism site (Tra Vinh province).
Meanwhile, four others received the re-recognition, namely the Gao Giong eco-tourism site (Dong Thap province), the memorial site of Professor and Academician Tran Dai Nghia, Van Thanh Mieu Vinh Long (Vinh Long Temple of Literature), and the Vinh Long Museum (Vinh Long province).
So far, 53 tourist attractions across the Mekong Delta have been recognized as typical ones of the region.
Tran Viet Phuong, Chairman of the Mekong Delta Tourism Association, said the places were surveyed and selected every three years so that travelers can easily choose safe, hospitable, and quality destinations to visit, thereby helping develop the tourism brand of the region.